Multiple Blessings: Celebrating Fathers of Twins, Triplets, and Quads
Jo-Carolyn Goode | 6/16/2015, 10:07 a.m. | Updated on 6/16/2015, 10:07 a.m.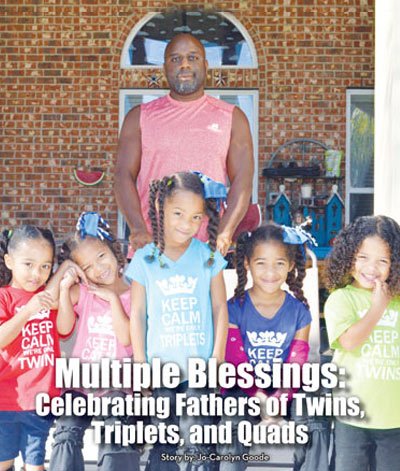 He is strong. He is brave. He is a protector and a provider. But with the sound of a cry or a wide eyed smile from his pride and joy a man can turn into a big softy when it comes to his children. He is dad. The man will do any and everything for the love of his family because if they are not happy he is not happy.
On this Father's Day, Houston Style Magazine honors those fathers who have their hands extra full, literally, with two, three, four, and more bundles of joy. They are dads of multiples.
Al Francis
Father of Triplets and Twins
Nominated by Doris Vela
After serving our country in the US Army for the past 27 years, Al Francis retired to be a full time dad to raise his triplet girls and twin boys with his wife. The couple also has an older daughter and one grandson. His family describes him as a phenomenal leader and role model. When it comes to the kids, Al does everything from braiding hair to teaching the kids to ride a bike. The kids and Al have a chant. He says "I Love my Life, Who got it better than us? The children reply "NOOOO-Body!"
Brian Boone Jr.
Father of Quads
Nominated by Nailah Stephens
Some called this dad by his given name of Brian Boone, Jr. while a few others know him as "Quaddaddy." He is the proud father of 10-month old quads and one active 6-year-old son. His cousin nominated him for the daily inspiration he is to her. Besides being one amazing father, she said she could never do his fatherhood justice with mere words.  This young father is God-fearing and pours all of himself into raising his children so they know that they are loved, adored, and appreciated.
David Gibson
Father of Twins
Nominated by Dawn Gibson
One could say David Gibson has the best of the world being the father of fraternal twins – one boy and one girl.  Ever since the birth of the twins David has been right by their sides. Waking up before the sun rises to feed them breakfast and going down with the sun to read them bedtime stories and tuck them in. Not a day goes by without the twins hearing "Daddy loves you." He constantly instills in the twins' heads that they will be amazing and successful. His wife, Dawn, describes David as the perfect model of what every father should be.
DeCorey Young
Father of Twins
Nominated by Britney Young
Balancing a basketball may have been easier than raising three children but DeCorey Young does not mind it one bit. Once a professional basketball player overseas, he took some time off to help his wife in raising their 2-month-old twin boys and 3-year-old daughter. Now he supports the family by working three jobs. However, he is not just a dad to the three he has at home. He serves as a mentor to an inner city school's basketball team. In addition, he mentors even more boys at his home church whose fathers are absent from their lives. His wife says DeCorey is an amazing man of God and is a perfect father.