Man With Terminal Cancer Gets Married With Help From Hospital Staff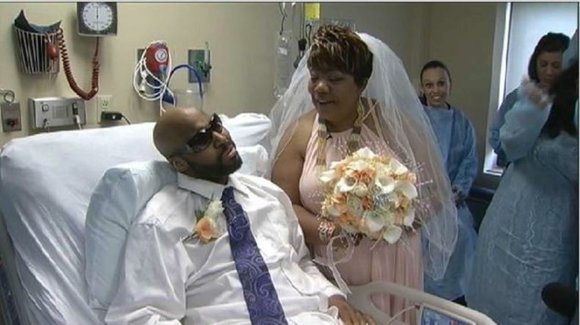 Yes, there are still good people in this world, and a few of them are on staff at the Good Samaritan Hospital in New York.
A man with terminal cancer was able to experience the "best day" of his life by marrying his girlfriend in the hospital where he is being treated.With the aid of graciously helpful staff, Keith Borum and Nina Scott were married at the Good Samaritan Hospital in West Islip, New York.
Keith has been battling non-Hodgkin's lymphoma for about 18 months. It all started earlier this year Keith ended up in the ER due to pain in his abdomen that turned out to be a cancerous mass. Non-Hodgkin's lymphoma is cancer that originates in your lymphatic system, the disease-fighting network spread throughout your body. In non-Hodgkin's lymphoma, tumors develop from lymphocytes — a type of white blood cell.
Many different subtypes of non-Hodgkin's lymphoma exist. The most common non-Hodgkin's lymphoma subtypes include diffuse large B-cell lymphoma and follicular lymphoma.
Nina Borum, née Scott, said even in the unusual setting she found the wedding perfect, according to the Statesman Tribune."The whole thing was great. I don't know what my favorite moment was," she said. "I couldn't imagine how great it could be or would be. The staff just outdid themselves … We couldn't have done it no better."
Nurses and other medical staff at the hospital helped in making the wedding even more special by donating a plethora of amenities for the wedding.
Nurses at the Good Samaritan Hospital decided to raise money for Nina and Keith's wedding, and there were some other people who donated for wedding rings, cake and flowers. According to Nurse Christina Ware, they got …items donated by a number of people they knew. She informed that there were donations for rings, invitations, wedding cake and flowers and said that the money for buying rings was raised by the nurses' group at the hospital.
The wedding rings were purchased by the hospital staff.
The cake and bouquet were donated by the local community. That's not all; the hospital staff also planned a reception and purchased treats for that too!
The couple, who have been together for three years, wore protective blue medical gowns over their wedding outfits to protect the groom against infection, as did the minister who presided over the wedding ceremony. Beaming from his hospital bed, Borum told WABC that in spite of his terminal diagnosis he was enjoying "the best day of my life."
For more information, visit blackdoctor.org