Super Bowl Champions Say the NFL Needs to Rethink Marijuana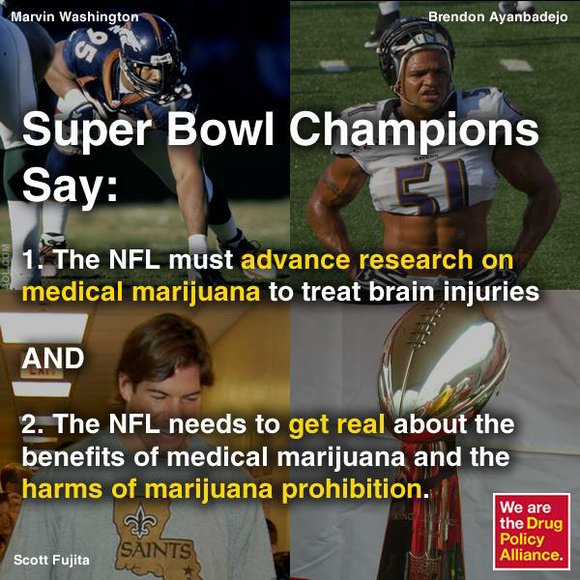 By Marvin Washington, Brendon Ayanbadejo and Scott Fujita
Published in the Huffington Post
01/26/2015
Super Bowl week brings back fond memories for us. We shed a lot of blood, sweat and tears to earn our Super Bowl rings.
For years, we put our bodies in harm's way in the ultimate team sport, and for many of our NFL colleagues, the physical damage done in pursuit of our dreams is often permanent, and sometimes terribly debilitating.
The NFL is the preeminent sports league in the U.S. but it is woefully behind the curve when it comes to marijuana and players are suffering as a result. Many former and current NFL players use or have used marijuana to treat pain associated with injuries sustained on the field. There is a compelling body of research showing that marijuana can help treat pain and brain injuries.
Roughly a year ago, Commissioner Roger Goodell expressed a willingness to consider the medical use of marijuana for players if medical experts deem it a legitimate option. He said, "We'll continue to follow the medicine... that's something we would never take off the table if we could benefit our players at the end of the day."
It is time for Roger Goodell to make good on that promise. The NFL should lead the way in developing a more rational and science-based approach to marijuana. According to the Drug Policy Alliance, abundant evidence already exists regarding the medical potential and benefits of marijuana. Roughly half of the fifty states (representing nearly half of NFL markets) have legalized the use of marijuana for medical purposes, and over 70 percent of Americans support this reform. It just so happens that this week's Super Bowl is being played in Arizona, a state that allows the use of marijuana for medical purposes.
First and foremost, the NFL should allocate financial resources to advance medical research on the efficacy of medical marijuana in treating brain injuries. In the case of trauma, a lot of inflammation occurs, which affects cognitive functioning and neural connectivity. A compound in marijuana called cannabidiol (CBD) has shown scientific potential to be an antioxidant and neuroprotectant for the brain. In a sport where closed head injuries are common, the league should be doing everything it can to help keep their players healthy during and after their careers. If the NFL wants to continue to grow its game, it must investigate potential medical solutions for its industrial disease, Chronic Traumatic Encephalopathy (CTE). Even the federal government holds a patent on marijuana for this purpose.
Second, the NFL should abandon its policy of drug testing and punishing players for use of marijuana. The NHL does not include marijuana among its banned substances and, just this month, the NCAA announced that it plans to re-examine its approach to drug testing student-athletes for non-performance enhancing drugs like marijuana because "they do not provide a competitive advantage." The HBO show "Real Sports with Bryant Gumbel" reported that 50-60 percent of players currently use marijuana regularly, mostly for pain relief. Solid evidence already indicates that such use can reduce reliance on opiate-based pain medications as well as anti-inflammatory drugs, many of which present pernicious side effects.