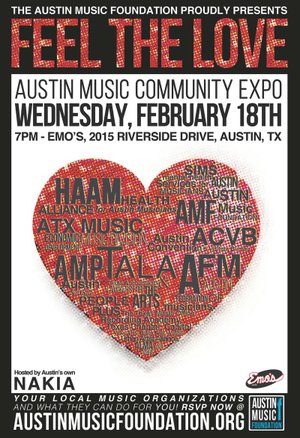 (AUSTIN, TEXAS - February 2015; source: Juice Consulting) - The Austin Music Foundation is proud to host "Feel the Love" - the first annual music community expo for professionals in the Austin music industry. The event will take place on Wednesday, Feb. 18 from 7 to 9 p.m. at Emo's located at 2015 E Riverside Dr. The event is free and open to the public. Attendees are asked to RSVP in advance of the expo at www.austinmusicfoundation.org.
"Austin Music Foundation is thrilled to arrange this very unique first time event to spread awareness about many of the inspiring music-related organizations that serve the local music community," said Brad Stein, Austin Music Foundation President.
Hosted by Nakia, the expo will be an opportunity to learn about industry resources that are available in the Austin area. It will kick off with an introduction of the organizations followed by a chance to network and speak to various group representatives. Additionally it will be a networking opportunity for musicians and industry professionals alike. Confirmed participants include the Austin Music Foundation (AMF), Health Alliance for Austin Musicians (HAAM), SIMS Foundation, Austin Music People (AMP), Black Fret, ATX Music Office, Austin Convention & Visitor's Bureau (ACVB), Texas Accountants & Lawyers for the Arts (TALA), Austin Federation of Musicians (AFM), Texas Music Office, The Recording Academy Texas Chapter, Capitol View Arts, Austin Blues Society and Urban Artist Alliance, among other organizations to be announced.
"Our office has wanted an expo like this for the music community for a long time," said Don Pitts, Manager of the Economic Development Department's Music & Entertainment Division. "We are happy that AMF has facilitated this event so people can learn about all of these wonderful music support organizations."
OTHER AMF NEWS:
The Austin Music Foundation is proud to announce that it has partnered with the City of Austin's Music & Entertainment Division for the third year of the Leaders in Austin Music Program.
This applicant based-program brings top-level music industry leadership effectiveness training for existing leaders in the Austin music community. The 2015 Leaders in Austin Music Program (LIAM) class will be:
Anthony Erickson - Eye in the Sky
Bettina Dahl - C3 Presents
Bianca Flores - Transmission Events
Chaka Mpeanaji - Riders Against the Storm
Charlie Faye - Touring Artist/Songwriter
Erica Shamaly - ACL Live
James White - KROX/KLBJ
John Absher - Mike Tolleson & Assoc.
Josh Woodhouse - Droplink Productions
Matt Mandrella - Do512
Matt Reilly - KUTX
Mike Dickinson - Chicken Ranch Records
Nigel Finley - Mood Media
Rakefet Avramovitz - Rattletree School of Marimba
Rikki Hardy - SIMS Foundation
Tammy Lynn Gilmore - SXSW
Tommy Blank - Quiet Company
Tyler Cannon - T. Cannon Media
SAVE THE DATE:
The Austin Music Foundation is proud to be the beneficiary of the fourth annual 2nd Street Soundcheck, a FREE day of music, food, shopping and fun presented by 2nd Street District and Austin Monthly. 2ND Street Soundcheck is the locals' kickoff party to Austin's month of music featuring 22 artists, food, drinks, shopping and more. This year's event will take place on Saturday, Feb. 28 from 1 to 8 p.m. at 2nd Street District (from San Antonio to Colorado). VIP tickets are available. During the event, Austin's 2nd Street District will become a music mecca and street festival showcasing 12 bands on two stages, multiple acoustic sets at various restaurants and stores, plus a VIP after party. For info, see: www.2ndstreetdistrict.com/soundcheck2015.
ABOUT THE AUSTIN MUSIC FOUNDATION:
Austin Music Foundation (AMF) strengthens and connects the local music community with innovative programs, events and initiatives to empower musicians and fuel Austin's creative economy. AMF provides programs to help with opportunities in the music industry, education specifically tailored to today's music business climate, and networking and unification among local artists and music businesses to foster a sustainable music community. Please visit www.austinmusicfoundation.org for additional information regarding AMF.