Aaron Hernandez Fast Facts
Willie Grace | 2/13/2015, 12:52 p.m. | Updated on 2/13/2015, 12:52 p.m.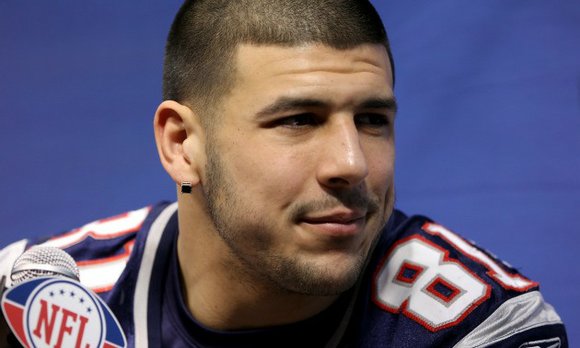 November 27, 2013 - Hernandez's attorney files an answer to a complaint in federal court in Miami filed by Alexander Bradley, stating that Hernandez is invoking his Fifth Amendment rights. Bradley claims Hernandez shot him in the face after an argument in a Miami strip club.
December 16, 2013 - Odin Lloyd's family files a wrongful death lawsuit against Aaron Hernandez.
January 16, 2014 - Unsealed court documents reveal that prosecutors suggested that Hernandez may have pulled the trigger in an unsolved Boston double homicide in July 2012. Victims Daniel de Abreu and Safiro Furtado were killed when shots were fired into their 2003 BMW. Another passenger was wounded and two others were uninjured.
January 30, 2014 - The Bristol County District Attorney's Office alleges Hernandez used "coded messages" in jailhouse calls to discuss allegations that he killed Odin Lloyd. Prosecutors request recordings of jailhouse calls and records of Hernandez's visitors since his arrest in June 2013.
February 7, 2014 - The judge denies the prosecution's request for the recordings of Hernandez's jailhouse phone calls.
February 25, 2014 - According to the Bristol County Sheriff's Department, Hernandez is involved in an "altercation with another inmate."
February 26, 2014 - The families of Daniel de Abreu and Safiro Furtado, the two men gunned down in Boston in 2012, file a wrongful death lawsuit against Hernandez; each family is seeking six million dollars.
April 11, 2014 - The two friends who were seen in the car with Hernandez on June 17, 2013, Carlos Ortiz and Ernest Wallace, are indicted and charged with Odin Lloyd's murder.
May 1, 2014 - Hernandez is indicted on charges of assault and battery and threats to do bodily harm, in connection to the February 25 jailhouse altercation.
May 15, 2014 - Hernandez is indicted for the July 2012 murders of de Abreu and Furtado and charged with three counts of armed assault with attempt to murder.
May 28, 2014 - At his arraignment, Hernandez pleads not guilty. Prosecutors allege that Hernandez killed de Abreu and Furtado after de Abreu bumped into Hernandez at a nightclub, causing the latter to spill his drink.
July 7, 2014 - Defense request to have Hernandez moved to a jail closer to Boston is granted. His lawyers argue that the trip from their offices to the Bristol House of Corrections could take up to two hours due to traffic.
July 8, 2014 - A judge in the civil lawsuit brought by the families of de Abreu and Furtad freezes Hernandez's $5 million in assets pending the outcome of his double-murder trial. The freeze includes the disputed $3.3 million Hernandez claims he is owed by the New England Patriots.
August 12, 2014 - Tanya Singleton, Hernandez's cousin, pleads guilty to contempt of court for refusing to testify before the grand jury. She is sentenced to two year's probation and one year home confinement. She receives home confinement because she has cancer.
September 23, 2014 - Tanya Singleton is sentenced to two years of home confinement after pleading guilty to contempt of court. She was sentenced for a similar offense last month.
December 22, 2014 - During a hearing in Bristol County Superior Court, prosecutors tell Judge E. Susan Garsh that the trial should take about six to 10 weeks. Prosecutors also say that jury selection, which is scheduled to begin January 9, 2015, should end by January 20.
January 26, 2015 - Jury is selected: 12 plus six alternates including 13 women and 5 men.
January 29, 2015 - Opening statements by prosecution and defense in Fall River, Massachusetts. Prosecution team: William McCauley, Patrick Bomberg, Roger Michel, and Brian Griffin. Defense team: Michael Fee, James Sultan, and Charles Rankin.
February 10, 2015 - The trial judge releases a decision granting immunity to Shayanna Jenkins, Hernandez' fiancee.
February 11, 2015 - A juror is dismissed from the trial for personal reasons. The jury is now made up of 10 women and six men.
For more information go to http://www.cnn.com