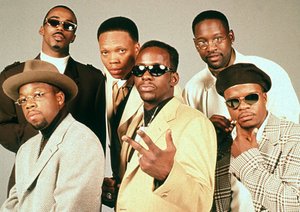 Monday, August 10, 2015 – BET Networks and Jesse Collins Entertainment announced today the production of an original miniseries based on the iconic music group New Edition. New Edition members Ricky Bell, Michael Bivins, Ronnie DeVoe, Johnny Gill and Ralph Tresvant have all signed on as co-producers for the film that is being developed into a three-night miniseries premiering on BET in 2016.
"It's been a long time coming and that time is finally here! Now that we have signed the deal, New Edition's journey will be captured in a three night miniseries to tell our life story through our very own eyes. We are happy to have New Edition Enterprises collaborate with BET Networks' Debra Lee and Stephen Hill along with Jesse Collins Entertainment. From our beginning in the Orchard Park Projects in Boston to Hollywood and everything in between, just like The Temptations and The Jackson Five—we are ready to retrace our footsteps and show everyone how we got here. For the fans all over the world, this one's for you," says New Edition.
"Personally, my relationship with New Edition goes back to being among the first to play 'Candy Girl' on my college radio station, so I'm ecstatic that BET is the place where the guys wanted to come to tell their complete, dynamic story," said Stephen Hill, President of Programming, BET Networks. "Everyone's been waiting for the New Edition saga to be told in all its triumphs and heartbreaks and we can't wait to bring it to the screen."
Jesse Collins (Real Husbands of Hollywood) is executive producer. "New Edition's music is woven into the fabric of our culture. When I brought the idea to BET years ago, I wanted to create a film that would tell the story of how New Edition emerged into one of the most important groups of its generation. I am so grateful that Stephen Hill and his team are giving Jesse Collins Entertainment the opportunity to chronicle the lives of these music icons," says Collins.
New Edition's longtime manager Brooke Payne will also serve as a co-producer. With a script by Abdul Williams (Lottery Ticket), the untitled film is slated to begin shooting in early 2016. A director has not yet been selected. This will be the first scripted music-focused television movie to air on BET.
Jesse Collins is represented by ICM Partners, Niles Kirchner Management and Bloom, Hergott, Diemer & Rosenthal. Ricky Bell, Michael Bivins, Ronnie DeVoe, Johnny Gill and Ralph Tresvant are repped by ICM Partners and Gordon Bobb at Del Shaw Moonves Tanaka Finkelstein & Lezcano. Abdul Williams is represented by UTA, Bonnie Berry LaMon at B2L Entertainment Law Group and Brad Kaplan at Primary Wave.
ABOUT BET NETWORKS
BET Networks, a subsidiary of Viacom Inc. (NASDAQ: VIA, VIAB), is the nation's leading provider of quality entertainment, music, news and public affairs television programming for the African-American audience. The primary BET channel reaches more than 90 million households and can be seen in the United States, Canada, the Caribbean, the United Kingdom and sub-Saharan Africa. BET is the dominant African-American consumer brand with a diverse group of business extensions: BET.com, a leading Internet destination for Black entertainment, music, culture, and news; Centric, the first network dedicated to Black women; BET Digital Networks - BET Gospel and BET Hip Hop, attractive alternatives for cutting-edge entertainment tastes; BET Home Entertainment, a collection of BET-branded offerings for the home environment including DVDs and video-on-demand; BET Event Productions, a full-scale event management and production company with festivals and live events spanning the globe; BET Mobile, which provides ringtones, games and video content for wireless devices; and BET International, which operates BET in the United Kingdom and oversees the extension of BET network programming for global distribution.
ABOUT JESSE COLLINS ENTERTAINMENT
Jesse Collins Entertainment is a full service television and film production company founded by entertainment industry veteran Jesse Collins. For more than a decade, Collins has played an integral role in producing some of television's most memorable moments in music entertainment. Formerly Executive Producer/EVP of Cossette Productions, Collins has produced ground-breaking and award winning television programming including the BET Awards, the GRAMMY Awards, BET Honors, UNCF An Evening of Stars and the BET Hip Hop Awards. Collins is an executive producer of Real Husbands of Hollywood (now going into its 4th season) and will also produce the 2015 Soul Train Awards for CENTRIC. He has worked with a myriad of superstar talent including Will Smith, Chris Rock, Jay-Z, Rihanna, Kanye West, Kendrick Lamar, Drake, Prince and Mariah Carey. Go to http://www.jessecollinsent.com/ for more information.
ABOUT NEW EDITION ENTERPRISES
New Edition Enterprises was established in 2006. It is a global entertainment company that includes touring, music, television, apparel and now film.
For more information, visit bet.com