Central Market Hatch Chile Festival Kicks Off
Everyone's all time favorite peppers are back at all locations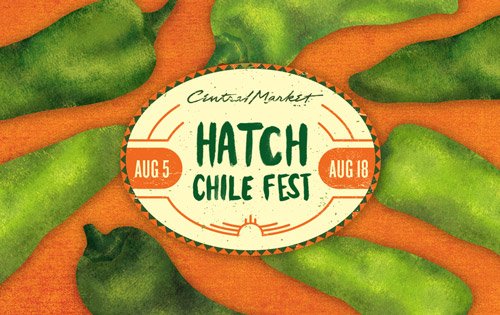 Houston, TX – Celebrate two decades of these roasted green gems as Central Market hosts its 20th Hatch Chile Festival! August 5 – 18. The store will officially kick of the event with the Lighting of the Roasters, August 6 at 5p.m., enjoy a variety of Hatch products including flaming Saganaki and Hatch sausage, live music and a ribbon cutting. Learn about the history of roasting Hatch peppers -- Central Market partners have more than 100 years of combined experience in roasting these delicately delicious peppers.
On August 13 5 – 8 p.m. savor the taste of Hatch in every department by stopping by for a Hatch Stroll. Sampling throughout the store, acoustic music in the café and an exciting give away!
Central market shoppers can indulge in the rich flavors of the unique chile that comes to Houston straight from New Mexico's Hatch Valley. Hatch infused entrees, appetizers and even desserts satisfy the craving, from Hatch Meatball Stuffed Poblano to Chicken with Hatch Tamale Cheddar Stuffing and even Creamy Hatch Lime Cheesecake.
Check with your Central Market store for further details about in-store tastings, demonstrations and other Hatch obsessed activities, or visit http://www.centralmarket.com.
Hatch-themed Cooking Classes:
THREE PIONEERS OF SOUTHWESTERN CUISINE CELEBRATE HATCH CHILES
Wednesday, August 5 from 6:30 to 8:30 p.m., $85 per person
Celebrate twenty years of Hatch chile obsession with three of the founding fathers of Southwestern cuisine. Chefs Del Grande, Fearing and Pyles will discuss how the movement started, their inspirations and how their efforts influence your dining selections today. Then each one will introduce you to his current favorites that feature our favorite Hatch chiles in this demonstration that includes:
Robert Del Grande
Sea Scallops with Hatch Chile & Pumpkin Seed Salsa ;
Country Style Pork Ribs with Hatch Chile Green Sauce
Dean Fearing
Mexican Hatch Pozole Stew;
Jalapeno Roasted Carnitas & Charred Corn Street Taco
with Hatch Chili Mojo
Stephan Pyles
Hatch Chile-Asiago Soup with Heirloom Tomato-Watermelon Salsa;
Hatch Chile Relleno stuffed with Sweet Potato & Corn Risotto
HATCHED
Central Market Cooking School Staff
Thursday, August 6 from 6:30 to 9 p.m., $60 per person

Yes, it's that time of year again. Those chiles we all love are back. Did you know, New Mexico exports the most chiles to Central Market? More than any other retailer in the country. You can say, we're BIG chile heads! Tonight we'll show you how so use chiles in our menu of:
· Hatch Chile Corn Cakes with Salmon & crème Fraiche;
· Hatch Chile, Onion & Potato Gratin;
· Beef Short Ribs in Hatch Chile Sauce, and;
· Grilled Pound Cake with Hatch Fruit Salsa & Mango Crème
COUPLES COOK: HEAVENLY HATCH
Elizabeth Escobedo, Culinary Instructor, Food Writer
Friday, August 7 from 6:30 to 9 p.m., $130 per couple
HANDS ON. Enjoy the flavors of Hatch as you and your partner create this heavenly dinner. With instruction and guidance from Elizabeth you will learn to make:
· Ceviche with Hatch Chile Peppers & Baked Lime Tortilla Chips;