Aaron Hernandez Found Guilty of Murder and Sentenced to Life Without Parole
Style Magazine Newswire | 4/15/2015, 10:48 a.m. | Updated on 4/15/2015, 10:48 a.m.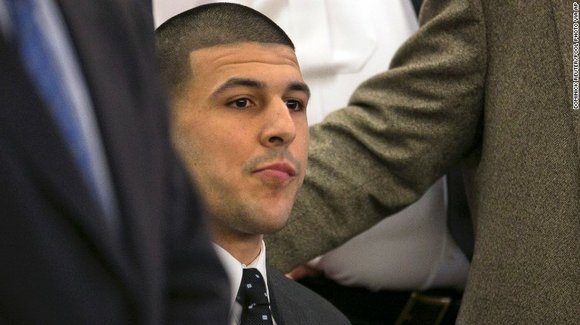 Former Patriots star Aaron Hernandez has been convicted on all counts in the June 2013 killing of Odin Lloyd, including first-degree murder. He has been sentenced to life in prison without the possibility of parole.
The verdict represents a stunning fall from grace for the former tight end, who just three years ago signed a five-year contract extension worth up to $40 million with the New England Patriots. Hernandez starred as a multi-sport athlete in his hometown of Bristol, Connecticut, and was a top player for the Florida Gators squad that won the 2009 national championship.
Hernandez's father passed away suddenly in 2006, which has been noted as a turning point in his life.
"I truly believe that Aaron wouldn't be where he is today if his father were alive," Bob Montgomery, Bristol historian and Bristol Press columnist, told Boston.com back in February. "[He and his brother] loved that man and they loved each other. Made me feel kind of funny. Boy, I wish I could show my son that love."
Hernandez also faces two murder charges for a 2012 drive-by shooting in Boston's South End. That trial does not yet have a starting date.
Hernandez was also found guilty of two weapons charges. The verdict comes after jurors heard testimony from 135 total witnesses—132 called by the prosecution—in the 10-week long case.
Prosecutors alleged that Hernandez and co-defendants Carlos Ortiz and Ernest Wallace drove Lloyd to a North Attleboro industrial park, where they shot and killed him around 3:25 a.m.
Ortiz and Wallace have both pleaded not guilty and will be tried separately.
Hernandez stood as he heard the verdict, and then sat down upon hearing the first guilty verdict. He did not show much emotion. His fiancée Shayanna Jenkins and his mother Terri Hernandez held each other and wept.
Lloyd's mother Ursula Ward, his uncle, his sister, and his cousin remembered Lloyd as a hard-working man and the "backbone" of the family during sentencing.
"I forgive the hands that had a hand in my son's murder, either before or after," Lloyd's mother Ursula Ward said during sentencing. "And I pray and hope that someday everyone out there will forgive them also."
"The day I laid my son Odin's life to rest, I felt my heart stop beating for a moment," Ward said. "I felt like I wanted to go into the hole with my son Odin."
"A lot of people won't see from the outside the value and the riches he had," his uncle Vorn Samuels said. "It wasn't material, the wealth he possessed."
"It feels like a bad dream, and I'm stuck between living and reality," Lloyd's sister Olivia Thibou said. "I have to go to his gravesite to look at his tombstone to tell him that I love him."
During the trial, prosecutors showed surveillance video of Hernandez carrying a semi-automatic pistol a few minutes after the murder. A Glock representative testified that it was similar to the model used to kill Lloyd.
Prosecutors never recovered a murder weapon, but police said Lloyd was killed with a .45-caliber Glock.