Mi Familia Vota Education Fund Partners With Univision San Antonio to Host "Get to Know Your Candidate"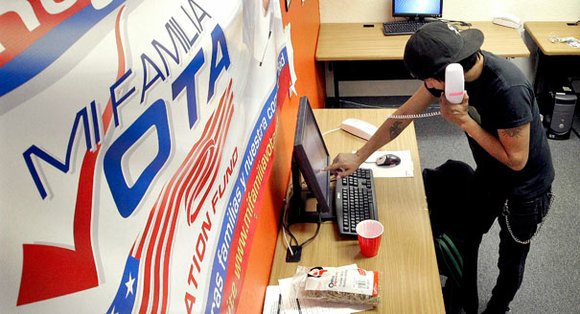 SAN ANTONIO, TX – Mi Familia Vota Education Fund (MFVEF) and Univision San Antonio will be hosting Cara a Cara, a televised townhall with one of the candidates for Lieutenant Governor, Leticia Van de Putte. Candidate Van de Putte will participate in a live one-hour townhall on Univision 41 San Antonio on Friday, September 12th from 10:00 P.M. to 11:00 P.M.
The townhall was initially programmed as a debate between the top two candidates for Lieutenant Governor but Senator Dan Patrick declined the invitation. Because MFVEF and Univision San Antonio are committed to ensuring that our community is informed and empowered with vital information this upcoming election, the format was changed to a "Get to Know Your Candidate" one-hour Q&A session.
Texas is home to over 10.1 million Latinos, who make up 38% of the total population; nearly 20% of all Latinos who live in the United States call Texas their home, making the Lone Star state the second largest with regard to Latino population. In Texas, Latinos also comprise over 22% of registered voters. Demographic and voting trends have demonstrated that the Latino electorate will continue to gain voters and increase turnout every election cycle.

According to projections released by the NALEO Educational Fund, it is estimated that over 1.2 million Latinos will turnout to vote this midterm election, a 20% increase from 2010.
"Part of the mission of MFVEF is to provide nonpartisan information to ensure Latino voters make informed decisions at the voting booth. This townhall presents an opportunity for candidates to address key issues important to Latinos, such as immigration, education, healthcare, the economy, and jobs," said Ben Monterroso, executive director of Mi Familia Vota Education Fund.
"We commend Univision for their commitment to empower our community to participate in the democratic process of this country. We especially thank Univision San Antonio for their support of MFVEF's civic engagement efforts and for their commitment to cover and inform on issues impacting our community," Monterroso concluded.
"This townhall with Lt. Governor candidate is part of Univision's on-going commitment to the Latino community in San Antonio and across the state of Texas to provide the most comprehensive coverage surrounding the topics of most relevance to them," Chris Morris, vice president and general manager of Univision San Antonio Local Media. "We thank the candidate for Texas Lt. Governor for accepting our invitation to take part in this townhall that will offer our viewers - a better look at proposed plans for Texas. We hope this conversation will motivate our community to exercise their right to vote on November 4."
The one-hour forum will stream live on Univision41.com and on Univision America 1350AM from 6 to 7 p.m.; it will air, tape-delayed, from 10 to 11 p.m. on Univision Television stations in San Antonio. Statewide coverage in Houston, Dallas and Austin will run at a later date. Additionally, segments of the discussion will air in a special edition of the local public affairs show "Conexión Texas."
Join the conversation on Twitter: #CaraACara @MiFamiliaVota @UnivisionSATX