Reworking It: Updating the Basic Work Wardrobe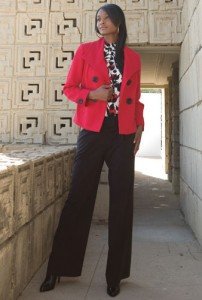 by Sharon Mosley
A new season calls for an appointment to polish up those style skills and update your work wardrobe. With new fall trends arriving in the stores and online daily, it's the perfect time to rework those professional basics that you've come to depend on day in and day out ... even if you work from home. Here are some ways to put some new life into your dress code for the office:
Start with a suit. Yes, going matchy-matchy is back, and that means the two-piece suit is making a comeback. How easy does that make getting dressed every day? An elegant, classic suit never fails. But just because you've still got that go-to black suit hanging in your closet, doesn't mean you just need to throw on a white blouse and be out the door. Instead, get creative. You've got a blank canvas.
Take apart the pieces. Wear a dark pair of tailored jeans with your suit jacket. Dressed-up jeans — don't even think about pulling out the ripped-up ones — can add a modern touch for the office. The high-waisted flares are a great update this fall. You can also add a pair of trendy culottes to give fitted suit jackets instant fashion appeal.
Think outside the jacket. A suit may be the ultimate working girl's friend, but there are other ways to get more mileage out of suit skirts and trousers. Take a cue from the boys and borrow a few of their sartorial tricks. A vest paired with a ruffled blouse or a cozy turtleneck will give you a little more of a casual vibe, but goes a long way in adding more of the cool factor.
A cropped top or sweater is another way to substitute some trendy style for the traditional professional uniform into your work wardrobe. The boxy, big-shouldered looks are in this season, and are a balancing counterpoint to slim pencil skirts. For even more of an up-to-the-moment look, try pairing shorter tops with a midi skirt.
Add a dash of whimsy.
Prints can do wonders for perking up those basics in your closet. There are plenty of bold, colorful patterns out there this fall that will take your boring suits and add a sophisticated touch. It's true that some designers have been carried away with mixing all kinds of "clashing" prints and patterns, as well as colors. A little of this mishmash goes a long way, especially if you're the one standing at the head of the conference table in front of a room full of corporate executives.
But it can be fun to do a little experimenting with your wardrobe. Leopard prints are a great place to start. They usually complement many graphic stripes and floral designs. Metallics are another way to polish up the shine on your office attire. Wearing a little sparkle during the day can set you apart in a sea of white shirts and black suits.
Make it colorful. Even though the fall season is usually full of muted tones, this year designers are putting a jolt into their designs. Go for the unexpected autumn hue to wake up that work wardrobe. An emerald green sweater? A cobalt blue dress? A red suede jacket? Pack a colorful punch into getting dressed every morning and you'll put a smile on your face and your co-workers too.
Accessorize. It's the little things that often make the biggest difference. You can wear the same suit several times and change up the accessories to always add a fresh twist. Go for unique and interesting details — try a wide belt to cinch in your jacket; an eye-catching bib necklace or a handmade-jeweled cuff bracelet.
Reinvent. Rework. Then rewind ... at home in your pajamas.
More at Creators.com