Originally published 10/31/2014 at 06:00a.m., updated 10/31/2014 at 06:00a.m.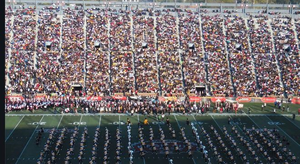 Alabama State's season of promise continued to unravel Saturday in the 73rd Magic City Classic at Legion Field in Birmingham, Ala., in front of 67,710 fans, the largest crowd for a game between two Football Championship Subdivision teams this season. The Hornets, ranked No. 1 among HBCUs at the start of this month, blew a 13-point lead en route to a 37-36 upset loss to arch-rival Alabama A&M after missing the winning field goal with 12 seconds left. It was the third consecutive loss for Alabama State (4-4, 3-3 SWAC), the preseason pick to win the SWAC East Division championship. The victory ended a two-game losing streak for Alabama A&M (3-5, 2-3 SWAC).
"It doesn't take anything away from the losses, but it shows what kind of team Alabama A&M is today,'' first-year Bulldogs coach James Spady said. Spady seemed appeared doomed to an unpleasant Magic City Classic debut in the early stages of the game. The Hornets scored on two of their first three possessions for a 13-0 lead. They maintained that margin through most of the third quarter. Leading 33-21 early in the fourth period, the crowd was fully expecting the Hornets to extend heir Magic City Classic winning streak to three straight games. But things took a U-turn in the fourth quarter. Running back Brandon Eldemire scored on a two-yard run to pull the Bulldogs within five points of the lead at 33-28 with 14:41 left in the game. The teams then traded field goals, leaving Alabama A&M staring at a 36-31 deficit with 8:23 remaining. Things got real dicey for the Hornets when Alabama A&M drove 95 yards in six plays for the go ahead points. Quarterback Jaymason Lee tossed a 49-yard touchdown pass to Tevin McKenzie with 2:26 showing on the clock to give the Bulldogs the lead.
Alabama State responded with a 12-play, 52-yard drive as the clock wound down. But the Hornets snatched defeat from the jaws of victory when Preston Clark's 30-yard field goal attempt sailed wide left. Clark also missed a 37-yard attempt in the first period when Alabama A&M blocked his extra point attempt following the Hornets' first touchdown. Alabama State controlled the game with its rushing attack. Running back Malcolm Cyrus topped the 100-yard mark with 148 yards as the Hornets ran for 237 yards. His five-yard touchdown run gave the Hornets a 33-21 lead. Quarterback Daniel Duhart threw for 267 yards for the Hornets, who outgained the Bulldogs 504-469. Lee riddled Alabama State's secondary for 319 yards and three touchdowns; Eldemire led Alabama A&M's ground attack with 120 yards.
Page 2 of 2
Key Results:
South Carolina Sate 20, Bethune-Cookman 14 – The Bulldogs used a fantastic finish to upset the Wildcats, ranked No. 1 among HBCs, in an MEAC contest in Orangeburg, S.C. South Carolina State (5-3, 3-1 MEAC) led 14-7 with 50 seconds remaining. However, freshman quarterback Calvin Giles-McClary fumbled the center snap at the Bulldogs' three-yard line. Defensive back Donald Smith scooped the ball up at the three-yard line and scored to tie the game. Bethune-Cookman (6-2, 3-1 MEAC) squibbed the ball on the ensuing kickoff and South Carolina State recovered it at the Wildcats' 49. Adrian Kollock replaced Giles-McClary and connected with wide receiver Austin Smith for the winning touchdown. Smith was surrounded by two defenders when he caught the ball, but managed to break free. He eluded three more would-be tacklers and dove into the end zone. Bulldogs nose tackle Javon Hargrove led an inspired defensive effort with a record-setting performance. Hargrove set a school record and tied the MEAC and FCS records with six of the Bulldogs' nine sacks. The Bulldogs' victory throws the MEAC race into a mad scramble with six teams – North Carolina A&T, South Carolina State, Bethune-Cookman, Morgan State, North Carolina Central and Norfolk State with one conference loss each.
Alcorn State 77, Prairie View A&M 48 – The Braves matched the second-high single point total in the FCS this season en route to a SWAC victory in the final game at Blackshear Stadium, the Panthers' home field for 66 years. It was the highest point total for the Braves (7-2, 5-1 SWAC) since since they scored 101 points against Paul Quinn in 1967. Quarterback John Gibbs Jr. passed for a career-high 367 yards and four touchdowns. Running back Arron Backer chipped in with a career-high 149 rushing yards. Running back Johnta Porter led all rushers with 157 yards for Prairie View (3-5, 3-4 SWAC), and he scored twice. Quarterback Jerry Lovelocke had 305 passing yards and threw for two touchdowns. The teams combined for 1,244 yards total offense, 699 for Alcorn and 545 for Prairie View. Both teams were heavily penalized as well. Alcorn was flagged 10 times for 110 yards; Prairie View was whistled 15 times for 154 yards in penalties. The Panthers, who played their first game at 6,000-seat Blackshear Stadium in 1948, will play at Panthers Stadium starting next year, which seats 15,000.
Southern 42, Jackson State 28 –Big plays in the kicking game were the difference for the Jaguars, who survived an offensive onslaught by the Tigers in a rematch of the 2013 SWAC Championship Game. Willie Quinn returned a punt 81 yards for a touchdown to help Southern build a 27-0 first-half lead, and Jaleel Richardson returned a kickoff 97 yards for a score as the Jaguars (5-3, 4-1 SWAC) surged to 33-14 advantage after two quarters. Quarterback La Montiez Ivy passed for 424 yards and running back Robert Johnson ran for 101 yards for the Jackson State (3-5, 1-4). The Tigers also had three receivers with 100 yards or more, Jarius Moll (118), Dan Williams (113) and Tobi Singleton (105). Jackson State finished the game with 530 yards total offense. Southern was even more productive with 591 total yards. The Jaguars pounded Jackson State with their running game, which generated 267 yards. Lenard Tillery led the Jaguars with 166 yards, including 77-yard touchdown run. Quarterback Austin Howard threw for 250 yards with an 87-yard touchdown pass to Quinn. Both teams were scoreless in the third quarter. But in the fourth, Jackson State outscored the Jaguars 14-9 but never seriously seriously threatened the Jaguars.
Arkansas-Pine Bluff 38, Texas Southern 37 – The Golden Lions blocked a field goal with four seconds remaining to preserve their first SWAC victory of the season. Running back Brian Handley ran for 193 yards and two touchdowns and quarterback Benjamin Anderson passed for 288 yards and three touchdowns for the Golden Lions (2-5, 1-4 SWAC). The loss essentially knocked Texas Southern (5-3, 3-3) out of contention for the West Division championship. Grambling State is undefeated in the conference and in first place in the West Division. Southern is second with only one SWAC loss. The game featured seven lead changes. Anderson and Willie Young connected on a 69-yard pass play for the winning touchdown with 2:15 left in the fourth quarter. Texas Southern took the ensuing kickoff and drove 57 yards in plays to set up a 47-yard field goal attempt by Eric Medina for the win. However, the middle of the Golden Lions' line blocked the kick. Quarterback Homer Causey threw for 333 yards and three touchdowns, and running back Daveonn Porters rushed for 183 yards and a touchdown, but that was enough to keep the Tigers from suffering their third loss in the last four games.
Other Scores:
MEAC
Hampton 23, Delaware State 0
North Carolina A&T 40, Florida A&M 21
North Carolina Central 42, Savannah State 14
Villanova 48, Morgan State 28
CIAA
Bowie State 20, Virginia Union 17, OT
Elizabeth City State 49, Chowan 33
Fayetteville State 49, Saint Augustine's 14
Shaw 35, Johnson C. Smith 34
Virginia State 63, Lincoln (Pa.) 7
Winston-Salem 34, Livingstone 17
SIAC
Albany State 32, Clark Atlanta 12
Benedict 33, Morehouse 15
Central State 41, Stillman 14
Fort Valley State 23, Paine 0
Miles 51, Lane 0
Tuskegee 38, Kentucky State 9
Others:
Edward Waters 47, Newport News Apprentice 21
Eastern Illinois 28, Tennessee State 3
Indianapolis 52, Lincoln (Mo.) 14
Oklahoma Baptist 62, Texas College 0
Shippensburg 34, Cheyney 13
West Virginia State 16, Virginia College at Wise 13
Wesley 75, Virginia-Lynchburg 12
Warner University 17, Concordia-Selma 12
For more information go to http://www.blackamericaweb.com