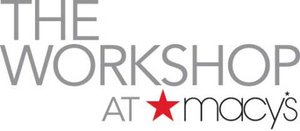 Miami, FL – October 7, 2014 – After four successful courses, The Workshop at Macy's, the retailer's innovative "business of fashion" program begins accepting applications today for the 5th Anniversary class of entrepreneurs, who are poised for bigger retail success. In the Spring of 2011, Macy's created this one-of-a-kind business of retail development program with the aim of mentoring and fostering growth within up-and-coming minority and women-owned businesses. This industry-first initiative has resulted in a number of new vendor relationships with Macy's and has created a pipeline of enterprises that the company can tap for future product opportunities.
"We are very excited to kick-off the application process for the next Workshop class," said Shawn Outler, Macy's group vice-president of Leased Businesses, Vendor Collaboration and Multicultural Business Development. "This program was created to develop minority and women-owned businesses that make great products, but needed additional real-world knowledge and expertise to successfully manage and maintain a thriving business with a large-scale nationwide retailer such as Macy's. Going into our fifth year, we are truly encouraged by the results so far with a number of graduates of the program now providing goods as Macy's vendors and a host more in the pipeline for future opportunities. This program helps reinforce Macy's long-standing commitment to vendor diversity and to providing customers with unique goods and services that meet their lifestyles. We can't wait to see what the new applicants have to offer."
The Workshop at Macy's is a four and a half-day intensive training course developed by a consortium of experts from Macy's Learning & Development, Macy's Multicultural Merchandising and Vendor Development, Babson College, the nation's leading business school for entrepreneurship, and with select Macy's merchants and vendors. The specially designed business development curriculum is aimed at minority and women-owned retail businesses that make department store products and are poised to grow beyond self-distribution or low volume retailing. The goal of this annual program is to help create a pipeline of viable enterprises that will grow to become successful partners within Macy's own vendor community often bringing unique goods and trend perspectives to stores across the country.
The Workshop at Macy's allows selected participants to collaborate with fellow aspiring vendors, gain access to industry experts and solicit one-on-one business coaching. The course work includes classes on merchandising and assortment planning, marketing, EDI, financial management, and access to capital.
From intimate apparel to jewelry and cosmetics, the Workshop at Macy's vendors all conclude that the program helped them identify opportunities and put into practice policies that have led to successful and long-term growth. Psychelia Terry, President and Founder of Urban Intimates, stated, "I found the Workshop at Macy's to be more than just a 'workshop,' it was life changing. Every team that worked with us demonstrated unparalleled knowledge about retail and wholesale partnerships. They sincerely cared about our business and our future success as a brand and company. We will be forever grateful for the 700% revenue increase that we have seen companywide because of the training, hand-holding and detailed instructions we learned from the Workshop at Macy's." She added, "Our company now successfully partners with Macy's and other retailers in the US because of the information we learned and put into practice during our training."