NFL Pro Bowl Fast Facts
Willie Grace | 11/21/2014, 4:41 p.m. | Updated on 11/21/2014, 4:41 p.m.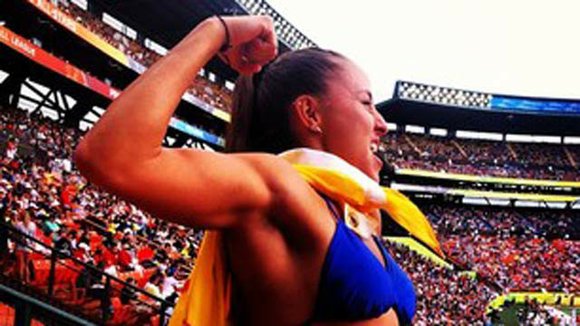 (CNN) -- Here is some background information about the NFL Pro-Bowl, the all-star game of the National Football League. The 45th Pro Bowl will be played January 25, 2015 at the University of Phoenix Stadium in Arizona.
The team led by Jerry Rice defeats the team led by Deion Sanders 22-21 in the 2014 Pro Bowl.
Facts: The Pro Bowl has been played every year but one since 1980 in the 50,000 seat Aloha Stadium in Honolulu.
In 1971, the NFC beat the AFC in the first Pro Bowl, played in Los Angeles, 27-6.
In 1984, 1989, and 1994, the AFC scored the fewest points of any Pro Bowl game with three.
In 2013, the NFC scored the most points of any Pro Bowl game with 62.
The NFC leads the AFC, with 22 wins.
David Akers (Philadelphia Eagles and San Francisco 49ers) holds the record for scoring the most points in his career at Pro Bowls with 57.
Larry Fitzgerald (Arizona Cardinals) holds the record for most touchdowns in his career at Pro Bowls with eight.
July 31, 2013 - The NFL announces changes in the player selections process. Instead of the National Football Conference (NFC) playing the American Football Conference (AFC), Pro Bowl team members will be drafted by fans, coaches, and players in a fantasy-style format regardless of conference.
January 21-22, 2014 - The first NFL Bowl draft is held. Alumni team captains are Jerry Rice and Deion Sanders.
2014 roster: Team Rice: Coach Ron Rivera, Carolina Panthers Quarterbacks: Drew Brees, New Orleans Saints; Philip Rivers San Diego Chargers; Alex Smith, Kansas City Chiefs Wide receivers: Brandon Marshall, Chicago Bears; Josh Gordon, Cleveland Browns; Alshon Jeffery, Chicago Bears; Larry Fitzgerald, Arizona Cardinals Tight ends: Jimmy Graham, New Orleans Saints; Tony Gonzalez, Atlanta Falcons Running backs: LeSean McCoy, Philadelphia Eagles; Matt Forte, Chicago Bears; DeMarco Murray, Dallas Cowboys Full back: Mike Tolbert, Carolina Panthers Tackles: Joe Thomas, Cleveland Browns; Tyron Smith, Dallas Cowboys; Jordan Gross, Carolina Panthers Guards: Jahri Evans, New Orleans Saints; Ben Grubbs, New Orleans Saints; Evan Mathis, Philadelphia Eagles Centers: Ryan Kalil, Carolina Panthers; Nick Mangold, New York Jets Defensive ends: Robert Quinn, St. Louis Rams; Cameron Jordan, New Orleans Saints; Cameron Wake, Miami Dolphins Defensive tackles: Jason Hatcher, Dallas Cowboys; Marcell Dareus, Buffalo Bills; Kyle Williams, Buffalo Bills Outside linebackers: Justin Houston, Kansas City Chiefs; Robert Mathis, Indianapolis Colts; John Abraham, Arizona Cardinals Interior linemen: Vontaze Burfict, Cincinnati Bengals; Derrick Johnson, Kansas City Chiefs Cornerbacks: Joe Haden, Cleveland Browns; Brandon Flowers, Kansas Chiefs; Antonio Cromartie, New York Jets; Alterraun Verner, Tennessee Titans Safetys: Eric Reid, San Francisco 49ers, Jairus Byrd, Buffalo Bills, Antrel Rolle, New York Giants Punter: Johnny Hekker, St. Louis Rams Place-kicker: Stephen Gostkowski, New England Patriots Kick returner: Dexter McCluster, Kansas City Chiefs Special-teamer: Justin Bethel, Arizona Cardinals Long snapper: Matt Overton, Indianapolis Colts
Team Sanders: Coach: Chuck Pagano, Indianapolis Colts Quarterback: Andrew Luck, Indianapolis Colts; Cam Newton, Carolina Panthers; Nick Foles, Philadelphia Eagles Wide receivers: A.J. Green, Cincinnati Bengals; Dez Bryant, Dallas Cowboys; Antonio Brown, Pittsburgh Steelers; DeSean Jackson, Eagles Tight ends: Jason Witten, Dallas Cowboys;Jordan Cameron, Cleveland Browns Running back: Jamaal Charles, Kansas City Chiefs Chiefs; Eddie Lacy, Green Bay Packers; Alfred Morris, Washington Redskins Fullback: Marcel Reece, Oakland Raiders Tackles: Trent Williams, Washington Redskins; Duane Brown, Houston Texans; Branden Albert, Kansas City Chiefs Guards: Marshal Yanda, Baltimore Ravens; Logan Mankins, New England Patriots; Kyle Long, Chicago Bears Centers: Mike Pouncey, Miami Dolphins; Alex Mack, Cleveland Browns Defensive ends: J.J. Watt, Houston Texans; Greg Hardy, Carolina Panthers; Mario Williams, Buffalo Bills Interior linemen: Luke Kuechly, Carolina Panthers; Paul Posluszny, Jacksonville Jaguars Outside linebacker: Brian Orakpo, Washington Redskins; Tamba Hali, Kansas City Chiefs; Terrell Suggs, Baltimore Ravens Cornerbacks: Patrick Peterson, Arizona Cardinals; Darrelle Revis, Tampa Bay Buccaneers; Brent Grimes, Miami Dolphins; Tim Jennings, Chicago Bears Safety: Eric Berry, Kansas City Chiefs; Eric Weddle, San Diego Chargers; S T.J. Ward, Cleveland Browns Punter: P Brandon Fields, Miami Dolphins Place-kicker: Justin Tucker, Baltimore Ravens Kick returner: Cordarrelle Patterson, Minnesota Vikings Special-teamer: Matthew Slater, New England Patriots Long snapper: J.J. Jansen, Carolina Panthers
For more information go to http://www.cnn.com