Analyst slashes Tesla Model X sales outlook by a third
Willie Grace | 11/19/2014, 11:34 a.m. | Updated on 11/19/2014, 11:34 a.m.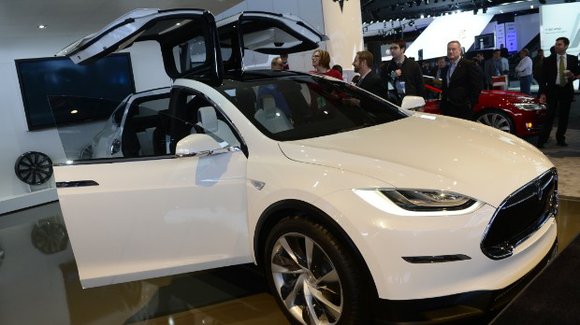 NEW YORK (CNNMoney) -- One of Tesla's biggest fans on Wall Street has slashed his expectations for the electric car maker.
Morgan Stanley analyst Adam Jonas cut his outlook for sales by a third for Tesla's SUV-style Model X -- to 5,000 from 15,000 previously. Jonas also sliced Tesla's earnings expectations for next year by almost half.
It's one more hit for the Model X, which has already been delayed by a few months. Jonas said in his report published Wednesday that among other things, the car's "falcon wind doors" could be challenging to produce on a large scale.
Jonas stands by his concerns even though Tesla has insisted that the falcon doors aren't that difficult to to produce. Tesla says its customers want the Model X to have the distinctive doors and that it has not been developing any alternative designs.
Earlier this month, Tesla said it was pushing back the launch of the Model X by a few months in order to do more testing. It now expects to begin delivering the new SUV-style car in the third quarter of 2015.
CEO Elon Musk acknowledged at the time that the delay will hurt Tesla in the short run, but argued that it's better in the long run to wait for a product that will "delight customers."
"There are many other companies that do not follow this philosophy that may be a more attractive home for investor capital," Musk wrote in a letter to shareholders. "Tesla is not going to change."
The analyst said his concern for the doors stem from the fact that the doors will have double hinges, a feature that has never been used before in doors that open upwards.
All that being said, it doesn't mean that Jonas is bearish on the stock -- he still recommends buying it.
Jonas has been one of the biggest believers in Tesla on Wall Street. He rates the stock "overweight" and has a price target of $320 per share.
Tesla shares were down 4% to about $246 in early trading Wednesday.
While he's still optimistic about the company in general, Jonas expects the Model X delays and reduced sales to weigh on Tesla's earnings next year.
Jonas has slashed his forecast for the company's earnings for next year to $2.45 per share, down from $4.39. On average, Wall Street analysts expect Tesla to earn $2.99 per share in 2015.
"We believe the Model X is critical to the Tesla story and execution on this product is critical," the report said.
For more information go to http://www.cnn.com