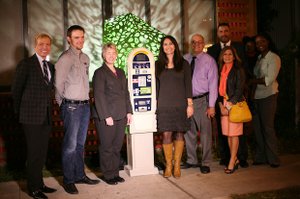 Houston, Texas – On November 10, 2014, Houston Mayor Annise D. Parker unveiled the latest additions to the City of Houston's art collection: three illuminated Art Parking Meter sculptures by Houston artist Troy Stanley, in partnership with Houston Arts Alliance (HAA). Stanley's functional Art Parking Meter sculptures are now installed along Washington Avenue.
In October 2013, the nation's first sculptural Art Parking Meters were installed in Houston's Warehouse District to alleviate parking congestion while highlighting Houston's visual artists. Today, Washington Corridor's burgeoning business and growing nightlife activities have created a similar strain on on-street parking. In response, a second round of Art Parking Meters has been deployed, putting an illuminating, creative twist on parking management.
"The Art Parking Meters provide a solution that adds a fun and unique twist to traditional parking meters," said Mayor Parker. "Washington Avenue is patronized extensively at night. Troy Stanley's Urban-Over-Growth meters will light up their surroundings with a sleek, modern design. Thanks to the amazing talent of this Houston artist, the meters will leave a memorable impression on visitors and residents alike at this popular nightlife destination," added Mayor Parker.
The 2014 Art Parking Meters are the first project in the nation to marry parking meters with a lighting element. This collaboration between City of Houston, private businesses and Houston artists makes the 2014 illuminated Art Parking Meters a truly unique undertaking. Three local businesses have donated their private power sources to accommodate the electric design. In addition, the Washington Parking Benefit District program, which manages Washington Corridor's curb-space, has pledged to return a portion of the net meter revenue to the district for future improvements.
"Houston Arts Alliance continues to seek unique opportunities to engage local artists and fabricators in creative placemaking across the city. Houston's Parking Management has been a great partner," said HAA President + CEO Jonathon Glus. "The six 2013 meters were the first parking meter project in the nation to employ sculptural elements to design; the 2014 meters are the first to accommodate an illuminated design. The Art Parking Meters exemplify two important elements in public art: permanence and distinction."
Artist Troy Stanley, a resident of Houston's Washington Corridor, was commissioned for the 2014 round of Art Parking Meters after a rigorous selection process by a panel of representatives from the City of Houston, Washington Parking Benefit District Advisory Board and local art professionals. Applicants were asked to propose creative ideas for parking meter sculptures that could withstand time, weather and natural outdoor wear and tear. Stanley's proposal was selected for his works' innovative artistry, durability, longevity, and incorporation of the City meters' modern design.
The new Art Parking Meter series titled Urban-Over-Growth encapsulates the City parking meters with sculptural, cut-steel structures. A light fixture inside the sculptures, aided by mirror vinyl wrap, illuminates the cut-steel flora designs that will be projected onto the surfaces surrounding the meters. Each of Stanley's Urban-Over-Growth meters is unique and represents Houston's typical three-season weather: spring, summer and fall.
Washington Avenue Art Parking Meters are:
· Urban-Over-Growth-Spring at Winston's on Washington, 5111 Washington
· Urban-Over-Growth-Summer at The Salvation Army Thrift Store, 2208 Washington
· Urban-Over-Growth-Fall at Darkhorse Tavern, 2207 Washington
Houston Warehouse District Meters are:
· Untitled, 2013, David Medina, 1300 Sterrett
David Medina's Untitled Art Parking Meter utilizes cast-bronze found and discarded objects collected at the installation site, inviting viewers to serendipitously engage with his sculpture.
· Auto Totem, 2013, Devon Christopher Moore, 1300 Nance
Inspired by parking meter and auto industry history, Devon Christopher Moore adorns his Auto Totem Art Parking Meter with an assemblage of vintage auto parts to illustrate Houston's resilience.
· Time Machine #1, 2013, Ketria Scott, 1400 Nance
Ketria Scott playfully transforms her Art Parking Meter into an acorn-dispensing gumball machine.
· Lightly Metered (Wind Swept Meters), 2013, Anthony Thompson Shumate, three meters at 1200 Sterrett
Anthony Thompson Shumate explores implied movement, engaging his viewers in visual folly with this three-piece Art Parking Meter series, Wind Swept Meters.
For more information, visit houstonartsalliance.com.