Council Member Larry Green Kicks-Off "(K)lean It Up, Green It Up" Campaign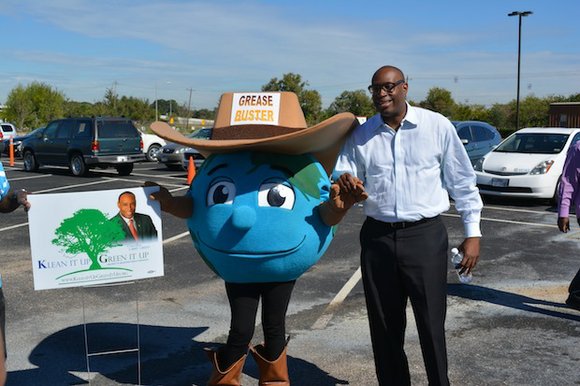 Houston City Council Member for District K Larry Green officially kicked off his "(K)lean It Up, Green It Up" initiative at a community kick-off event in Southwest Houston on Saturday. Taking place at the Fountain of Praise's Fountain Life Center, the kick-off served as the catalyst for an initiative that will look to create a cleaner community for District K residents, as well as establish the district as one of the 'greenest' communities in the city.
"This campaign is dedicated to the improvement of District K in hopes of creating a better community for generations to come," said Council Member Green. "(K)lean It Up, Green It Up will require strong community buy-in, and we've already began to build a strong coalition of support across the City. Together, we can make District K a cleaner, greener, more beautiful place to live – now let's get to work!"
The community kick-off drew large crowds throughout the day, and featured local vendors, representatives from various City departments, and local community leaders. Following remarks from Council Member Green, the Fountain of Praise's nationally-renowned drill team entertained event-goers with a "(K)lean It Up, Green It Up" themed performance.
"Today's event was a great way to kick off this campaign," said Council Member Green. "We are thrilled that today's event drew so much interest throughout the community, and we'll need this incredible level of community buy-in to make this initiative the success we know it can be."

"(K)lean It Up, Green It Up" is an initiative focused on beautifying District K through tree plantings, the development of community gardens, an increased focus on recycling, and opening community farmer's markets, amongst other green initiatives. For more information on the campaign, please visit www.KleanItUpGreenItUp.org.