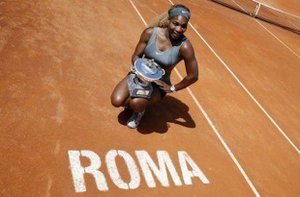 Serena Williams dominated against Sara Errani in efforts to win her third Italian Open title. Williams has won this tournament back in 2002 and last year in 2013. It was an intense match against Errani the 10th seed in the tournament and Italian local. She seemed to have the home court advantage with a number of fans cheering her on. Errani wanted to become the first Italian woman to win this title in nearly 30 years.
Williams didn't let any of that play a factor in her win. She came out forcefully in both sets. Errani was trailing in the match 5-3 when she took an injury timeout for some irritation in her thigh. When she came back into the game her thigh was wrapped. It was game point and Williams hit a tough shot without even receiving an attempt from Errani to try to play it and ended up taking the game.

In the next match locals tried to provide some patriotic encouragement by singing the national Italian anthem and having fans chant "Sara, Sara" to keep Errani encouraged. None of this effected tournament veteran Williams who jumped to a 3-0 lead. Errani had very few chances to get it back in the first set, but Williams overpowered her with her hard serves and she had seven aces to Errani's zero and overall killed the game.
Errani's injury clearly played a factor in her loss. She told fans during the victory ceremony "I'm sorry you have been brilliant all week. I tried to do my best and stay on the court only for you." Williams really sympathized for Errani but was more than happy to be walking away with the win. They do say third times a charm, and that seems to be true for Serena Williams.