Pistons hot after Stan Van Gundy
Willie Grace | 5/13/2014, 2:20 p.m. | Updated on 5/13/2014, 2:20 p.m.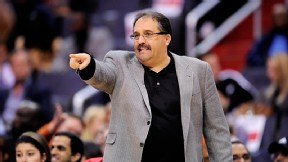 The Detroit Pistons are offering Stan Van Gundy a lucrative deal to be their next coach and take over complete control of all basketball operations, Yahoo! Sports reported Tuesday.
The website, citing league sources, says the Pistons are trying to compete with the Golden State Warriors for Van Gundy's services.
Sources told ESPN.com on Saturday that the Warriors had targeted Van Gundy in their search for a successor to the fired Mark Jackson, based at least in part on the premise that an experienced coach can ensure that the team maintain upward momentum in the ultra-competitive Western Conference.
Golden State made the playoffs this season, losing to the Los Angeles Clippers in Game 7 of the opening round.
The Warriors also had been linked to Steve Kerr but have grown increasingly pessimistic about their chances of convincing him to turn down the New York Knicks in favor of Golden State's job, sources close to the process previously told ESPN.com.
Van Gundy was fired as coach of the Orlando Magic after the 2011-12 season. He led the Magic for five seasons, finishing with a 259-135 record and going 31-28 in the playoffs.
In a radio interview Thursday with 740 AM in Orlando, Florida, Van Gundy admitted that he's not sure if he's ready to return to coaching after spending the past two seasons in broadcasting and focusing on family time.
"Part of me does, and part of me doesn't," Van Gundy told the network. "Look, we're so happy in Central Florida. It would really have to be a great situation for me to get back in. I miss a lot of it. I really do. I miss the competition. I miss the challenge. I miss the camaraderie of it. But I also like the time that I've had, so we'll just have to see what happens. You weigh every situation."
The Pistons went 29-53 this season and missed the playoffs for the fifth straight year.
They fired Maurice Cheeks in February, naming John Loyer interim head coach.
Joe Dumars then stepped down as Detroit's president of basketball operations last month.
For more information, visit http://www.espn.go.com