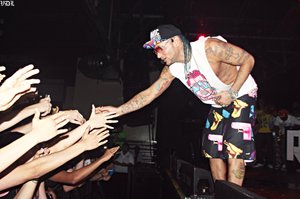 Written by: Jordan Rogers
HOUSTON, TX - With RiFF RaFF headlining a show, it is almost a given that the audience would be in for an entertaining night. Before even entering the venue, the line to get into Warehouse Live was decorated with neon-clothed young fans that stood for a good two hours before doors even opened. Yeah, I wish RiFF would have done one of those infamous pizza parties before the show - ya boy way hungry and no there was absolutely no taco truck in sight to satisfy my soul. FYI, I heart tacos.
So, about the openers - ummm, no comment. Bad sound and horrible stage presence were a few of the issues the crowd had to endure before Travi$ Scott finally stepped on stage. The audience in the room pulled a 180 and went from a high school prom crowd to full on mosh pit. Scott got the party started in a very unique way. Afterall, it was his birthday and what's a birthday without cake being smashed into someone's face? No lie, I wanted some of that cake. I was so hungry and still thinking about that taco truck that never came around. And then, with no harness or rope, the Missouri City based performer climbed up the speakers, grabbed the roof support beams, and worked his way to the roof.
One slip and he would have fallen 40 feet back to reality.
Anytime you see a man performing on the roof of a venue, you're going to be locked in a trance and the Warehouse crowd completely played the part. It was arguably the best performance I've had the pleasure to watch – well, from looking at a guy in the balcony of a venue perhaps. After his set, the crowd had to endure 90 minutes of a DJ failing to keep the energy alive.
I almost began to walk out thanks to boredom and hunger - TACOS - until I saw a 10-foot cutout of Katy Perry's float walk the stage. Katy Perry! Then the self-proclaimed "Neon Icon" himself walked out on stage, soaking in the crowd's cheers and praise. It became a house party as his whole crew joined him and began adding to the energy, all set to the soundtrack of unreleased songs from his upcoming Neon Icon album. Every inch of the stage was filled by an overly hyped and energized fan rapping along to every song. I was absorbed by the hype in the venue, trapped in a daze by RiFF RaFF. He performed every major hit song, even "For My Gear" leading to my Chicago alter ego making an appearance as I began yelling all the adlibs and dancing like Chief Keef himself.
In one of the tracks, Jody Highroller mentioned sleeping in a Versace sleeping bag. My mind took a break from the concert and became wrapped around the question "Where does one get a Versace sleeping bag?"
Following the show, Rogers was able to get in a Q&A with RiFF RaFF himself. In true "Neon Icon" fashion, every answer from Jody Highroller led to something any teenager or devout fan would put in his or her yearbook. This is that Q&A.