Tigers Claim 2014 SWAC Tournament Title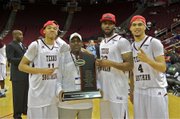 Texas Southern's Aaric Murray scored 27 points and 10 rebounds to lead the Tigers to a 78-73 win over Prairie View in the Southwestern Athletic Conference Championship game on Saturday and a berth in the NCAA tournament. In an all around impressive performance Murray notched his seventh double-double of the season.
The win clinches the Tigers' fifth NCAA tournament bid in school history and first since 2003. The Tigers (19-14) overcame a 38-31 halftime deficit by opening the second half on a 13-2 run to take the lead just four minutes into the half and held for the win.
"The first half we played excited, not nervous, but excited," TSU head coach Mike Davis said. "I was relaxed from the standpoint of our talent, but I was disappointed in some of our effort some of our guys were very excited to be in the position to go to the tournament. I told the guys to relax and to settle down."
Madarious Gibbs added 15 points and five assists for the Tigers. The Panthers (11-23) were led by 19 points from junior guard Montreal Scott.
PVAMU rallied late when Demondre Chapman cut to the basket and dunked to bring them within five 70-65 with a couple of minutes remaining. Murray's block with 40 seconds to go sealed the victory.
"I think I owed it to them," Murray said of his teammates. "I was riding them the last six or seven games when I couldn't score and teams were triple-and-doubling me. I would kick the ball to them and they would make plays."
"Getting off to a fast start was really important for the standpoint of relaxing our guys," Davis said. "I knew once we got the lead it was going to be very difficult for us not to win the game if we made our free throws."
TSU head coach Mike Davis now has led three different schools to the NCAA Tournament.
Texas Southern will face Cal Poly on Wednesday, March 19 at 5:30 p.m. in Dayton, Ohio in the opening round of the 2014 NCAA Tournament. The game will be broadcast on TruTV and will be carried live on KTSU 90.9 FM. The winner of the game will face Wichita St. on Friday in St. Louis.