Originally published 3/18/2014 at 08:49p.m., updated 3/18/2014 at 08:49p.m.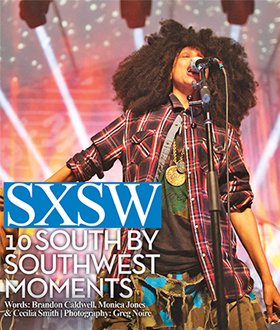 5. SXSW Is Corporate, But You Knew That Already
In its 27 years of existence, SXSW has continued to not only swell but innovate as well; branching off into film, music, comedy, and this year, even a television showcase. Proving that adaptability is key, as the event continues to evolve with the times. And sadly, money is going to be part of that. How do you escape the big corporation feel of SXSW? Simple – go support the little guys. – CS
6. Movies > Music
For the first time in my five years going to SXSW, I was privy to enjoying the film festival portion as well as the music side. And let's be perfectly clear – it's much easier to get into a film showing than a music showcase. Even when I split time between Andre 3000's rather impressive showing of Jimi Hendrix to catch Kanye West & Jay Z on my first night, the 3000 flick was a much easier occasion to navigate as opposed to the Samsung wrist band sea of standing people moment that was Jay & Ye. Who knew? – BC
7. Free Swag!
Take note, we're referring to the original meaning of swag in free goodies given to you by a corporation or a brand as opposed to the new aged one. Frankly, every year I get something weirder and weirder at SX. Last year, I got underwear and condoms. This year I got a hookah pen and plenty of T-shirts. Not to mention Samsung gave away free drinks and tacos just for taking album cover photos. – BC
8. Random Discoveries Are The Best
There is no telling what you may run into in regards to a SXSW showcase. You can hear someone in a pop-up performance on 6th Street like rapper Raz Simone or you can start picking up game on a guy named Jelly Roll from Tennessee. What may also shock you is how many niche acts can blossom into fully formed things. Case in point, Future Islands completely owned SXSW to the point they won awards for it. UK singer Sam Smith already owned every heart with his work on Disclosure's "Latch". That's what SX is about in a sense – straying away from your normal plans. – BC
9. Food Truck-A-Mania
While many people attend SXSW to feed their need for all things music and film related the true victor of the 2-week long festival are the food trucks that provide relief daily to thousands of famished SXSW attendees. SX Southbites was a little piece of heaven that I stumbled upon rambling through the streets of Austin. The food truck park equipped with a cash bar, mobile charging station, and an outdoor tent for seating quickly became my resting place. With over 15 different food trucks the hub had a little something for everyone's taste buds as trucks featuring organic entrees, local fixins, and sweets had endless lines. – Monica Jones
10. Doughbeezy & The Hannibal Burress Army
In terms of entourages, Doughbeezy and his Headwrecka camp might have this whole travelling like a squad thing down pat. The Houston rapper played fourteen different showcases at SX, each one his own personal proving ground for his latest release Footprints On The Moon. He and Compton, CA rapper YG might have a say in who had the best rapper representation at SX but nothing tops Hannibal Burress.
Burress, the Chicago comedian was at SX like everyone else, to enjoy good music and people. He also happened to have a screening of his new comedy special on Friday night. After going full blast in telling jokes, Burress finished the Q&A session by having a full out 2nd line band play him out of the theatre and into the streets. The man had his own SX parade. Nothing, can top that. - BC