Drake Brings Out Wiz Khalifa, Big Sean, Houston Legends & More At HAW Concert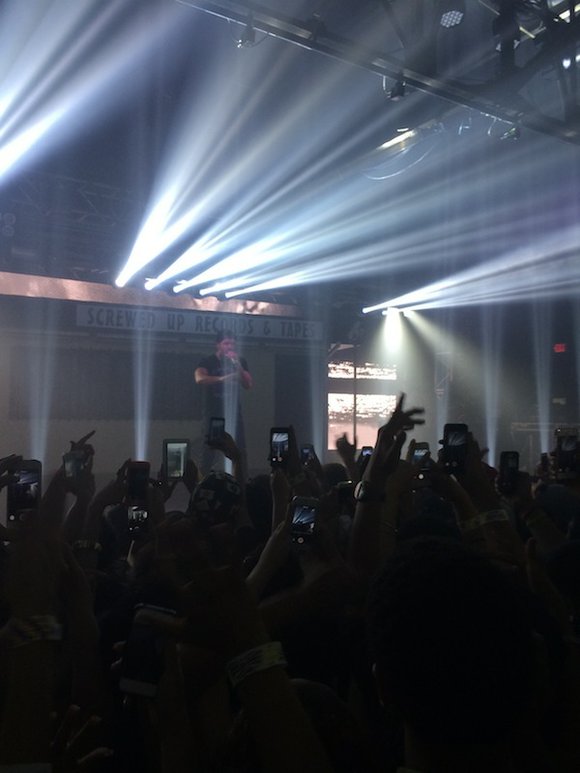 Five years ago, inside the ballroom at Warehouse Live, Drake became a thing in Houston.
At first, hearing the Canadian rapper mention Houston so much, so often and with so much joy in his voice felt weird. He was an outlier, someone who wasn't born here clad in a black T-shirt singing the cities praises all over live performances from his So Far Gone mixtape. He's said the same phrase every single time he arrives back within city limits, "Without you I wouldn't be shit."
5 years later he returned to that same venue, "the man" in rap.
Before I even begin, let me go ahead and tell you that Warehouse Live had pretty much told the press there was ZERO chance of them getting in. By sheer luck I was able to get in and tell you this story. Clap for those guys.
It's one thing to see Drake pull off a "with friends" show. It's another to see him re-create the Houston rap landmark in the Screwed Up Records & Tapes shop and allow Houston legends such as Lil Keke, ESG ("Swang & Bang", Yungstar ("June 27"), Trae Tha Truth (H.A.W.K.'s verse on "Swang"), Slim Thug & even Lil Flip ("The Way We Ball") of all damn people perform their tracks and get their own bit of shine. Even Slim could have felt overwhelmed by it all by mixing up his "Before Da Kappa" freestyle and the "3 Kings" version he used for his Already Platinum album. It literally felt like a mosh pit, a sweaty oasis of faded SUC glory with dashes of the Northside tossed in.
Then Drake arrived, to a thunderous roar of cheers behind his "Draft Day" ode to A&M and now Cleveland Brown pal Johnny Manziel. He hadn't performed it anywhere else, thus letting everyone know from the onset - this was a different show. When he performed "We Made It" to a near deafening audience, I felt like death had shown up and decided to fling me all over the place before I could settle. People were THAT excited to see Aubrey, in this exact position I guessed he would be in a year ago.
For two and a half hours, we revisited his entire career up to this point. We sat back and swayed to So Far Gone material, "Bria's Interlude" & "A Night Off" making it seem like we all had personal missions to run back home to our significant others to finish a job. The Thank Me Later arc, complete with those insane lighting aspects for "Over", "Show Me A Good Time" and more caused more pushing, more shoving and undercover HPD and security to arrive to breakup a protest mid-show where some guys showed up with signs ablazened with "FUCK LIL WAYNE" and "H.A.W. BROUGHT TO YOU BY THA MOBB".
There are truthers to a damn appreciation weekend, folks.
When you've got some 40+ tracks to cover, you're going to slip. Drake, for all of his rehearsal and practice (no pun intended) did so during "Find Your Love" but regained footing around a performance of a reggae song. We long cracked jokes about his singing but he's far too confident to sit back and let it get to him now. This isn't 2010 Drake. The 2014 version is a cocksure monster with a toothy grin who knows he can't do wrong.