Voting begins in war-torn Syria; Bashar al-Assad expected to win
Willie Grace | 6/3/2014, 2:26 p.m. | Updated on 6/3/2014, 2:26 p.m.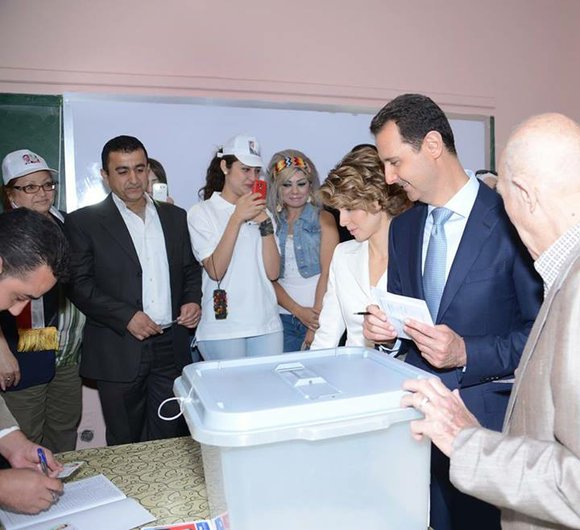 Syria's official election body praised what it called a high turnout of voters and said "no problems whatsoever have been reported so far during the balloting process ongoing in Syria," said SANA, Syria's national news agency.
Syrian state television reported that because of the high turnout at polling stations, the Higher Judicial Committee for Elections extended voting by five hours, so it will end at midnight Tuesday.
Little-known challengers
One aspect of this year's election distinguishes it from the previous foregone conclusions. Al-Assad actually has people running against him -- although it's questionable how much of a challenge they present.
The two other candidates are relative unknowns: Hassan al-Nouri, a businessman and former government minister; and Maher Hajjar, a lawmaker.
Critics say they are just pawns or window dressing to give the election a veneer of democracy. But the Syrian government has dismissed any criticism of the process.
Hajjar has kept a low profile, but al-Nouri says he's serious about challenging al-Assad and is "trying to attack his weaknesses."
Speaking ahead of the election, he claimed he would be "more aggressive and more effective" than al-Assad on economic, administrative and social issues.
But on the overarching question of the war, al-Nouri offers no dissent. "Politically, I think he's doing what he has to do," he said.
Rebels divided
What al-Assad is doing is continuing the brutal offensive against those opposed to his regime, raining down barrel bombs on rebel-controlled parts of cities such as Aleppo and Daraa.
The opposition groups fighting against him are divided, with squabbling between factions and jihadis who have flocked from around the world to try to establish an Islamic state.
The rebels have lost ground around Damascus and Homs, and are under pressure in Aleppo and the south of the country.
Talks this year mediated by the United Nations did little to change the situation, ending with the regime and the opposition firmly opposed.
Ban's office has warned that the elections are likely to worsen the situation, saying they "will damage the political process and hamper the prospects for a political solution that the country so urgently needs."
If al-Assad emerges victorious, as expected, it will further diminish the likelihood of his stepping down anytime soon. The Syrian opposition and Western countries insist that al-Assad can't be part of any body that, under an agreement signed in Geneva, Switzerland, earlier this year, would lead the country through a transitional period.
For more information go to http://www.cnn.com