Marvel Reveals First 'Ant-Man' Comic-Con Poster
Willie Grace | 7/24/2014, 3:43 p.m. | Updated on 7/24/2014, 3:43 p.m.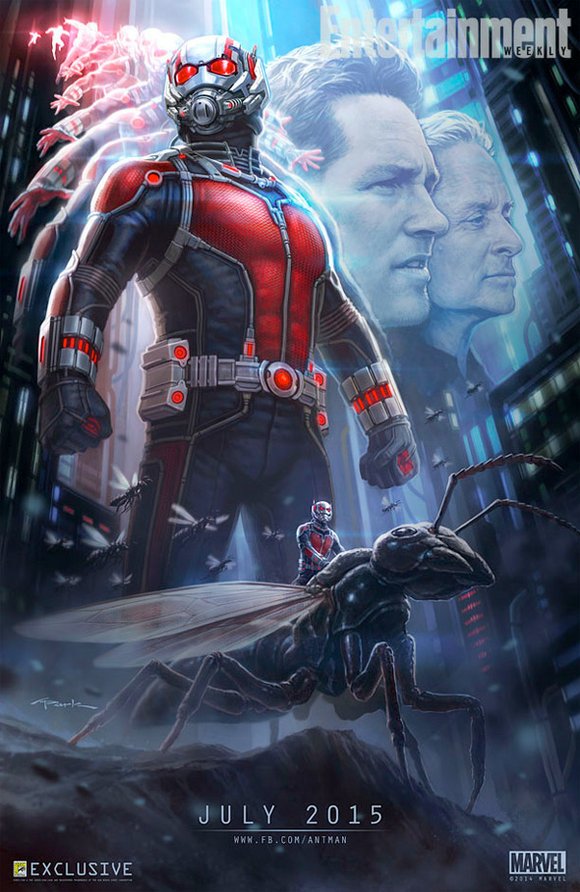 Hey Hank! With Comic-Con 2014 kicking off today, we're going a bit crazy with Marvel Studios buzz, between new release dates, hype about Saturday's panel, buzz about the Guardians of the Galaxy release and so much more. The latest debut is this poster - a comic book art poster for Marvel's Ant-Man, which is now being directed by Peyton Reed, but will still star Paul Rudd as Scott Lang, with Evangeline Lilly in the mix, too. We expect to hear (and hopefully see) a lot more about this comic book movie in the next few days as Comic-Con swings its doors open. For now, feast your eyes on this art and tell us if you are excited.
Here's the first comic art poster for Marvel's Ant-Man, direct from Entertainment Weekly at Comic-Con.
The current synopsis for Marvel Studio's Ant-Man: A scientist enlists a thief to safeguard his size-changing technology, and also to create a superhero who will defend the world. Based on the comic book superhero, Marvel's Ant-Man movie will be directed by Peyton Reed (of Yes Man, The Break-Up, Down with Love previously), who is taking over for Edgar Wright after he dropped off after years of developing the project. The cast includes Corey Stoll, Patrick Wilson, Michael Pena, Matt Gerald, and Michael Douglas as Hank Pym. Disney will release Marvel's Ant-Man in theaters everywhere starting July 17th, 2015 next summer.
For more information go to http://www.firstshowing.net