Aaron Hernandez Fast Facts
Willie Grace | 7/11/2014, 11:10 a.m. | Updated on 7/11/2014, 11:10 a.m.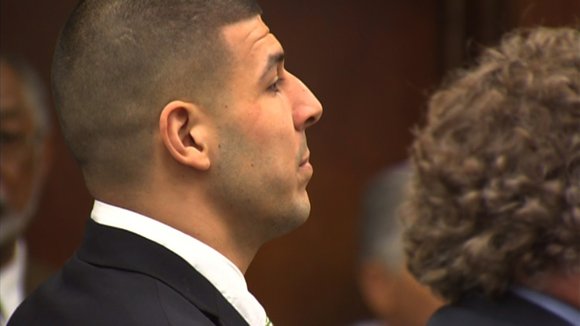 Here is a look at the life of Aaron Hernandez, former New England Patriots tight end charged with the murder of semi-pro football player Odin Lloyd and the murders of Daniel de Abreu and Safiro Furtado.
Personal: Birth date: November 6, 1989
Birth place: Bristol, Connecticut
Birth name: Aaron Michael Hernandez
Father: Dennis Hernandez, a high school custodian
Mother: Terri (Valentine) Hernandez, a school secretary
Children: with Shayanna Jenkins: Avielle Janelle Hernandez, November 6, 2012
Education: Attended University of Florida, 2007-2009
Other Facts: Odin Lloyd, 27, played semi-pro football for the Boston Bandits and dated the sister of Shayanna Jenkins, Hernandez's fiancée.
Daniel de Abreu and Safiro Furtado were immigrants from Cape Verde who worked as cleaners.
Hernandez was very close to his father, Dennis, who died in 2006 due to an infection during surgery for a hernia.
Timeline: 2009 - Aaron Hernandez becomes the first Florida Gator to win the John Mackey Award, awarded every year to the top collegiate tight end.
January 2010 - Announces his decision to skip his senior year at Florida and turn pro.
April 24, 2010 - Hernandez is picked in the fourth round of the NFL draft by the New England Patriots.
April 27, 2010 - Due to allegations of multiple failed drug tests, Hernandez makes a statement admitting one failed drug test while playing for Florida.
August 27, 2012 - Signs a five-year contract extension with the New England Patriots, worth up to $40 million.
June 17, 2013 - Prosecutors say Odin Lloyd is seen at around 2:30 a.m. leaving with Hernandez and Hernandez's friends, Carlos Ortiz and Ernest Wallace, in a rented silver Nissan Altima.
June 17, 2013 - A jogger finds a body riddled with gun shot wounds at an industrial park in North Attleboro, Massachusetts.
June 18, 2013 - Police search Hernandez's home in connection to the body found in the industrial park a mile away, which is later identified as Odin Lloyd.
June 22, 2013 - Police search his home for the second time.
June 26, 2013 - Aaron Hernandez is arrested and charged with first -degree murder for Lloyd's death. He is also charged on five weapons-related charges. He pleads not guilty and is held without bail. Hernandez is released by the New England Patriots less than two hours after his arrest.
August 1, 2013 - Tanya Cummings-Singleton, Hernandez's cousin, is jailed for not testifying before the grand jury.
September 19, 2013 - Ernest Wallace pleads not guilty to the charge of an accessory after the fact of a slaying.
September 27, 2013 - Carlos Ortiz, a Hernandez associate, is indicted on a single count of accessory to murder after the fact, in connection with the killing of Odin Lloyd. He later pleads not guilty.
October 16, 2013 - Shayanna Jenkins, Hernandez's fiancee, pleads not guilty to perjury charges. Prosecutors allege that she lied to a grand jury and disposed evidence.
November 27, 2013 - Hernandez's attorney files an answer to a complaint in federal court in Miami filed by Alexander Bradley, stating that Hernandez is invoking his Fifth Amendment rights. Bradley claims Hernandez shot him in the face after an argument in a Miami strip club.