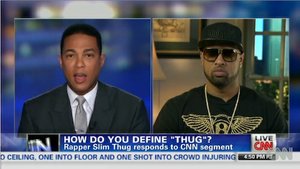 If we ever needed someone to represent the meaning of "thug", Slim Thug must be that representative.
On Wednesday, the rapper appeared on Don Lemon's OutFront show on CNN to discuss the claim that thugs couldn't be entrepreneurs. Lemon had aired a segment the week prior about a viral video of a Omaha, Nebraska toddler berating and cursing out his parents. The video touched Lemon personally and he remarked on "the thug cycle", wondering if the word "thug" was racist.
Slim, who is no stranger to controversy on Twitter voiced his opinion about the segment which then led for him to appear on OutFront to discuss the word, personal encounters of racism, and music listeners tying in his stage name with lyrical content. Didn't know the word "thug" had become such a hot button issue but Slim defended his position with thought and eloquence.
We're not going to suggest that Slim has all of the answers but he did offer this relatively interesting jewel, "If anybody listens to music and is influenced by what a rapper says then they wasn't raised in a good home anyway. If somebody going to listen to a song and do what the song say, that's bad parenting off top."