Rodeo Roundup Rallies at City Hall to Dedicate Day to Houston Livestock Show and Rodeo - Go Texan Weekend Information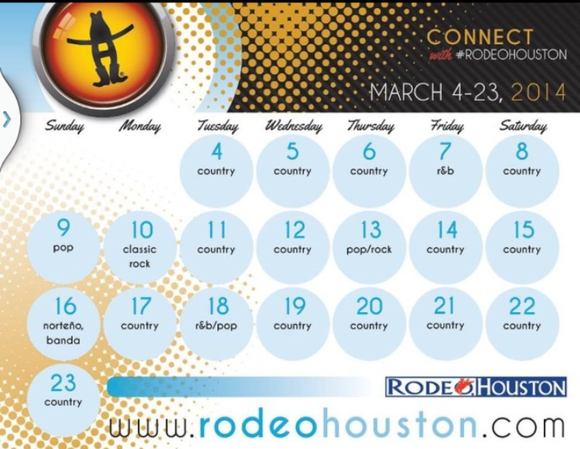 Houston Mayor Annise Parker proclaimed Friday, Feb. 28, as Go Texan Day in Houston during Rodeo Roundup, an annual event at City Hall to kick off the Houston Livestock Show and Rodeo.
Go Texan Day brings attention to the upcoming three-week event by encouraging people to celebrate Western heritage through activities, style and fun. The excitement of this year's Show will continue throughout the week and weekend with the following events:
World's Championship Bar-B-Que Contest
More than 300 teams will compete in the World's Championship Bar-B-Que Contest Thursday, Feb. 27, to Saturday, March 1, at Reliant Park. The three-day competition also includes live entertainment from artists such as Jack Ingram, Bart Crow Band, Gary P. Nunn and Aaron Watson. Visit www.rodeohouston.com for a complete list of entertainers and performance times, carnival hours, and shuttle bus locations and times.
Trail Rides
More than 3,000 trail riders will make their way through the streets of the nation's fourth largest city Friday, Feb. 28, as they move toward Memorial Park. This continues a more-than-60-year-old tradition that keeps Western heritage alive and alerts everyone that the world's largest livestock show and rodeo is about to begin. After traveling a combined total of nearly 1,800 miles, 13 trail rides will merge and camp one final night at Memorial Park before taking to the streets for the Downtown Rodeo Parade, Saturday, March 1. Beginning as early as Feb. 7, trail riders began traveling toward Houston from points as far away as Reynosa, Mexico.
Trail riders are judged several times during their individual journeys on overall appearance, including dress in traditional Western wear. Final judging occurs as the riders enter Memorial Park Friday, Feb. 28, from 11 a.m. to 5 p.m., with the awards presentation at 5 p.m.
ConocoPhillips Rodeo Run
More than 15,000 contestants are expected to participate in the ConocoPhillips Rodeo Run, Saturday, March 1, which includes a wheelchair race at 9:10 a.m., a 10K race at 9:20 a.m., and a 5K fun run/walk at 9:45 a.m. ConocoPhillips has contributed more than $3.7 million to the Houston Livestock Show and Rodeo Educational Fund since the race began in 1988. For more information, visit www.conocophillipsrodeorun.com.
Downtown Rodeo Parade
Medal of Honor recipient U.S. Army Staff Sgt. Ty M. Carter will lead the Downtown Rodeo Parade as grand marshal Saturday, March 1. Hundreds of thousands of Houstonians and out-of-town spectators will line the streets of downtown to watch participants on decorated floats, authentic trail riders on horseback, and marching bands to celebrate the start of the 2014 Houston Livestock Show and Rodeo.
The Downtown Rodeo Parade route
begins at Bagby and Walker streets;
goes from Walker Street to Travis Street, then turns right on Travis;
continues on Travis to Bell Street, and right on Bell;
travels Bell to Louisiana Street, then right on Louisiana;
takes Louisiana to Lamar Street, and a left on Lamar; and
ends at Lamar and Bagby.
Houston Livestock Show and Rodeo
The world's largest livestock show and most innovative rodeo opens Tuesday, March 4, and runs through Sunday, March 23. Since 1932, the Houston Livestock Show and Rodeo has committed more than $350 million toward scholarships, research, endowments, calf scramble participants, junior livestock show exhibitors, School Art participants, and other educational and youth programs.