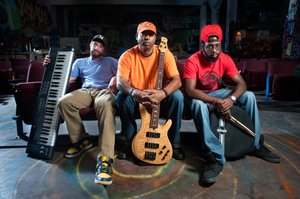 Ke'Ke: Where do you guys see yourselves in the next 2 years?
The Victor: In the moment...still laughing but with updated passports and frequent flyer miles.
Ke'Ke: Will there be any new projects dropping before SXSW?
The Victor: We just dropped a new live HD video of a studio performance of "Test My Soul" recorded at 226 Recordings in the Heights on our YouTube
channel (youtube.com/andthevictoris). The festival organizers at SXSW (South By Southwest) have been so gracious that they've begun to use it on
their various outlets to help market our upcoming showcase. We are set to
perform at midnight on March 14th at the historic Elephant Room in Austin. [SXSW OFFICIAL SHOW CASE]
Ke'Ke: Tell us one thing you want every reader to know about The Victor?
The Victor: My parents Dan and Linda Jones and my college professor Darlene Serrato as well as Jarrell's parents Tim and Vicki Campbell and Clayton's parents Kirk and Dottie Farris have all told us at key moments of our lives..."You can do this!" while we were overcoming life's obstacles. The name of our band was born out of that spirit, The Victor. The one who overcomes, conquers. So we say to the world through our music, you can do this!
Ke'Ke: Do you have any advice to give to single or group acts/bands who are trying to brand themselves & get noticed?
The Victor: Giving advice can be tricky but I will say this, I don't think there is a magic bullet so to speak. If you study all the greats across disciplines you will find a common thread: They all worked hard (and smart), did their homework, paid their dues and never quit.
Congratulations to The Victor, I'm certain there will be many more accolades to come in the near future!
THE VICTOR:
booking@andthevictoris.com