Daring motorists urged to smarten up before taking on bad weather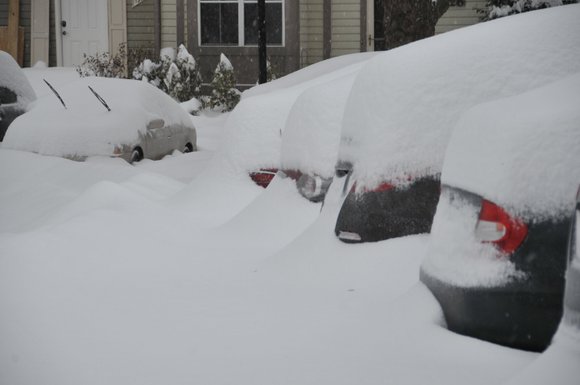 By Michael Martinez
CNN
(CNN) -- To understand how human nature sometimes doesn't heed winter weather warnings, listen to how Deanna Hunt didn't listen.
She ventured into Wednesday's storm in North Carolina, rendering herself stuck in her car on a snowbound road -- even after the nation saw two weeks ago how Georgia motorists were forced to sleep in their cars while stuck in another storm.
Such standstills frustrate officials who warn the public of deadly weather. They're now studying ways to improve messaging, the National Weather Service said.
"You know, it was such a crazy thing," Hunt, who is pregnant, told CNN. "We knew there was a huge front coming through, but you just never anticipate it coming as fast as it does. And it came in the middle of the day at lunchtime.
"My impression was that I could get to where I was going and get back, like a lot of other people. And the fact that it came so fast, that's the thing. It's amazing how quickly you can get stuck," she added. "All it takes is one accident, and then it just starts backing up, and it's the trickle-down effect.
"And here I am, ironically, stuck in it," Hunt said in a phone interview Wednesday from her vehicle. She and her child were spending their fourth hour in the car, though it should have taken only 22 minutes to get home in Raleigh.
When officials see footage of such stranded drivers, they become distressed, said Eli Jacks, the National Weather Service chief of fire and public weather services.
Weather warnings are often issued three or four days in advance of a storm so that people can prepare for their safety, Jacks said. Thwarting those efforts are public attitudes of "I've been through this before or I'll get through this," he said.
"In places that aren't used to receiving this type of weather like Atlanta and North Carolina, the images of people being on the road unable to move are very disturbing," Jacks said. "Nobody wants to see that.
"We're issuing these watches, warning and advisories, and yet people go out into these storms," Jacks said. "We issue them so that people will listen to them and say, hey, there is something different going on than the average weather."
The agency service is working with social scientists and researchers on possible ways to improve the public messages. Their goal is to protect people and property.
"One of the things that we're studying is whether our messages are clear," Jacks said. "There is no single answer to this. It's a topic that I think is important to study because we want to minimize (distressing weather images) you see on TV, so that people understand the threat and they react to the threat appropriately."
Don't put on your stupid hat
Gabrielle Harte of Raleigh experienced frostbite on her ankles Wednesday when she left work and drove home as snowfall began. But she moved only a mile in an hour and then didn't move at all two hours later, so she decided to walk the remaining four miles, she said.