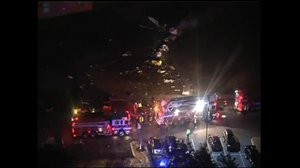 By Justin Lear
CNN
(CNN) -- The pilot of a small plane that crashed in Nashville, Tennessee, appeared to have acted heroically before the fatal impact, a fire official said.
Four people were killed Monday after the plane crashed near the John C. Tune Airport in Nashville.
An eyewitness told fire officials that the plane made a hard right bank before hitting the ground, missing all the buildings in the area, including a YMCA building and a retirement home.
"That tells me the pilot did one hell of a job protecting lives," District Fire Chief George Hickey told CNN affiliate WTVF.
The victims were identified as Glenn Mull, 62; Elaine Mull, 63; Amy Harter, 40; and Samantha Harter, 16.
Amy Harter was Elaine Mull's daughter, and Samantha Harter was their granddaughter, according to friends and family on social media.
"Nothing can describe the hole this day will leave in all our hearts and souls," another family member, Stan Harter, wrote on Facebook. "Please pray for my brother Doug as he has lost his wife and daughter, mother and father in law in a horrific tragedy. And for my nephew Chase who lost his mom, sister, and 2 grandparents."
The flight left Great Bend Municipal Airport in Great Bend, Kansas, and was preparing for a second approach to the Nashville airport when the accident occurred.
The cause of the crash was not clear.
CNN's Dorrine Mendoza and Mariano Castillo contributed to this report.