Michael Strahan: Houston Is In His DNA
Jo-Carolyn Goode | 2/4/2014, 6:18 p.m. | Updated on 2/4/2014, 6:19 p.m.
Although being a great an athlete was in his DNA, sports was something that the former NFL defensive end Michael Strahan didn't take an interest in until he was almost a teenager. The Houston born native is the son of a basketball coach and a boxer, who is also an ex-Army major. As a military kid, Michael, along with his mother and siblings, lived in various places. Thus he was not always able to really get involved in sports.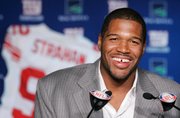 His first introduction to football happened in 1979 when he was 8-years-old. He played in the Pop Warner Football Tournament while in his father was stationed in North Carolina for a year. Following that year, the family would move to Manheim, West Germany, where soccer, not football, is king. Strahan and his dad feed their yearning for football by watching American Monday Football on TV at the base according to nj.com.
Football would become his passion when Strahan was sent to Houston to live with his uncle, retired pro football player Arthur Norton. His father thought that he was a football natural. Strahan told The Houston Chronicle, "My dad saw something in me, but I'm not sure what it was. When I was in high school in Germany, he told me I was going to make it to pro football. I couldn't believe it because I wasn't even playing football at the time. He told me I was going to get a scholarship." And dad was right. Westbury High School coaches were impressed Strahan's natural abilities and with only one year of play on the open field he was able to secure an athletic college scholarship to Texas Southern University. "I had one scholarship offer and that was to TSU," Strahan said during his commencement speech when he awarded the Honorary Doctorate of Humane Letters degree by his alma matter, TSU. "Thank God for that scholarship."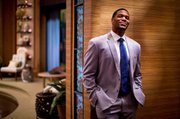 Like most college freshmen, Strahan was extremely homesick and wanted desperately to return and stay in Germany with his family. During the Christmas break of his first college year, Strahan told his father of his decision. Like before his father had other plans and back to Houston Strahan returned. This time he had a new attitude. He was determined to learn the game of football, be a success, and make his parents proud. Becoming the Black College Defensive Player of the Year and Associated Press All-American I say that he achieved his goal but he wasn't finish yet.
In 1993, the NFL took notice of Strahan and the New York Giants drafted him. After getting over the culture shock of New York, Strahan warmed up to New York and New Yorkers warmed up to him. With each passing year Strahan became a force to be reckon with on the defensive line.
The game would change in 2001 when Strahan set the record for NFL sacks in a single season taking him from just a NFL player to a NFL history maker. It is not surprising that his most recent honor of being inducted into the Pro Football Hall of Fame has happened.

Now retired from the NFL Strahan is doing his second act as a media personality and co-host of Live with Kelly and Michael. His gapped tooth grin and infectious personality allows him to enter the homes of millions through their TVs. His love for his community is just as big as his heart through his many philanthropic efforts. He could not be more deserving of the Hall of Fame honor because he is more than just an athlete. He is a role model of hard work paying off.
Houston Style Magazine congratulates Michael Strahan on this auspicious honor. As Houstonians we take pride when one of own rises in such a way that the world takes notice. So Houstonians stick out your chest a little bit broader, let your voice be heard a little louder, let your pride shine a little bolder, for when one of us excels we all are made better. Congratulations Michael Strahan!