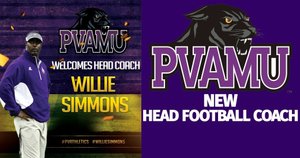 Renowned offensive coordinator Willie Simmons has been selected as the 32nd head football coach in Prairie View A&M history on December 16, 2014.
Simmons comes to Prairie View A&M after an impressive three-year stint as the offensive coordinator at Alcorn State, which recently won the SWAC and SBN Black College National Championships. With Simmons on staff, Alcorn State fielded one of the most potent offenses in the country as they led the SWAC in seven offensive categories while also finishing second in the nation amongst Football Championship Subdivision (FCS) teams in scoring offense with 44 points per game during the 2014 season.
Alcorn State quarterback John Gibbs, Jr. flourished in Simmons' offense as he was named SWAC Co-Offensive Player of the Year while breaking several long-standing records held by ASU legend and former NFL standout Steve "Air" McNair. In addition to Gibbs' accolades, ASU had four players who rushed for at least 691 yards and a balanced wide receiving corps which featured four players catching 22-plus receptions.
In Simmons' second season at Alcorn State in 2013, the Braves had a major turnaround offensively from his first season as they finished second in total offense, second in scoring offense, third in rushing offense, fourth in pass offense and third in pass efficiency. Three offensive players earned All-SWAC honors with senior Arnold Walker having a career season as he led the SWAC in rushing yards (1,191) and rushing touchdowns (16). Walker also finished as ASU's all-time rushing leader and the Braves finished 9-3 and had their first winning season since 2006 and nine-win campaign since 1984.
Prior to Alcorn State, Simmons spent five seasons at Middle Tennessee State University and was a part of history as MTSU had its most successful run during his tenure. As one of the newest members in the Football Bowl Subdivision (former Division I) level at the time, the Blue Red Raiders made two consecutive postseason bowl appearances for the first time in school history (2008 and 2009) and set an MTSU FBS-record with 10 wins in 2009.
In 2011, Simmons was named offensive coordinator at Middle Tennessee State as he was one of the youngest coordinators in the nation at only 30 years old. During that season, the Blue Raider offense led the Sun Belt in total offense and rushing offense, while ranking second in passing offense and scoring. Before being elevated to the role of offensive coordinator, Simmons served as running backs coach and passing game coordinator at MTSU from 2007 to 2010. In 2010, Simmons coached the three-headed backfield of Phillip Tanner, Benjamin Cunningham, and D.D. Kyles which helped the Blue Raiders produce one of the top rushing attacks in the country while combining for 21 touchdowns. All three averaged more than 4.5 yards a carry, and Tanner garnered All-Conference honors.
Simmons had a real challenge in 2009 when Tanner went down with an injury in the second game of the season, leaving the Blue Raiders without an experienced running back. Simmons guided D.D. Kyles to a career year as the sophomore posted 857 yards on 139 carries (6.2 ypg average), scored three touchdowns, and had 14 receptions. Kyles, the team's leading rusher down the stretch, had three straight 100-yard rushing games during the last half of the season.
In 2008, Tanner had personal bests at the time in rushing yards, receptions, and touchdowns. Also under Simmons' watch, Tanner earned National Player of the Week honors after setting a Sun Belt Conference and Blue Raider scoring record with six touchdowns in a win over North Texas.
Under Simmons' leadership in 2007, DeMarco McNair led the conference in touchdowns scored, and Tanner registered his first 100-yard rushing game with 144 yards on national television against Louisville.
Simmons made his way to Murfreesboro, Tenn. in 2007 after one season on Tommy Bowden's staff at Clemson, where he was a graduate assistant. Simmons worked with the offense while handling various other duties with the program as the team earned a spot in the 2006 Music City Bowl.
Before joining Bowden's staff, Simmons served as the quarterbacks coach and passing game coordinator at Lincoln (FL) High School in 2005.
Simmons, a native of Quincy, Fla., lettered three years as a quarterback at Clemson from 2000 to 2002 and passed for 2,530 yards and 16 touchdowns in 24 games. As a freshman, Simmons came off the bench for a hurt Woodrow Dantzler and threw for 228 yards and a record-tying four touchdowns in Clemson's 38-24 win at North Carolina to earn ACC Rookie of the Week honors. Simmons played two years as a backup to Dantzler before becoming the starter in 2002.
Following three years at Clemson in which he participated in four postseason bowl games, Simmons transferred to the Citadel in 2003 and earned First Team All-Southern Conference honors.
A prep star at Shanks High School, Simmons threw for over 6,000 yards and 96 touchdowns during his brilliant career while also earning a 3.8 grade point average.
Simmons, who was born on October 12, 1980, in Tallahassee, Fla., earned a degree in Sports Marketing from Clemson in 2002. He was the fastest football player to graduate at Clemson, accomplishing the milestone in three years.
Simmons and his wife Shaia Rene, have a daughter, Raven and a son, Louis III.
For more information, visit pvpanthers.com