Dior Pre-Fall Show 2015 in Tokyo, Japan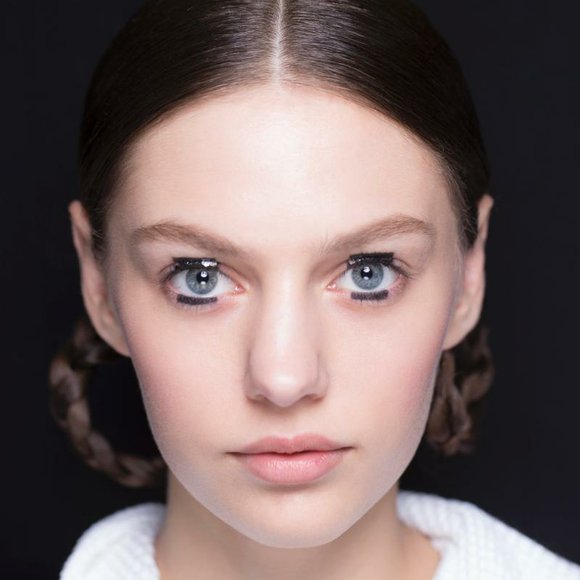 Peter Philips, Creative and Image Director for Dior Makeup, created a graphic makeup look punctuated with a play on shine that echoed Raf Simon's silhouettes.
"I wanted to design a make-up look that had a very strong visual impact, focusing on an 'electric' eye that was both graphic and abstract. I was mainly inspired by Kabuki make-up with its codified, dramatic aesthetic that plays on the abstract nature of this visual strangeness. I also wanted to create a play on light to reflect the shiny, glittery elements that were omnipresent throughout this Pre-Fall collection and that give the make-up look a slightly Magna feel."
-Peter Philips, Creative and Image Director for Dior Makeup
Dior Pre-Fall Show Beauty Look 12-11-2015 - Products Used
EYES
Diorshow Pro Liner in Pro Black #092 (NEW product launching June 2015 worldwide)
Diorshow Mascara in Catwalk Black #090
Peter Philips emphasized the eye as the focal point of the make-up look, made up in an 'electric kabuki' style, as a reinterpretation of this strangely beautiful theatrical aesthetic.
"This make-up looks just as good from far away as it does in detail. Using the new Diorshow Pro Liner was so easy it encouraged me to create this cubic bloc with clean lines. I also wanted to punctuate the look with a flash of light, so I applied some jumbo-sized glitter to the centre of the upper eyelid at the lash line, which then catches the light when the eyes close, creating a pretty spectacular 'robotic' glitter effect."-Peter Philips
Starting exactly above the iris, the black liner is then applied all the way down to the lower eyelids, creating a rectangular shape that crosses the eyes from top to bottom. The sides of the eyes remain bare, and only the eyelashes within the rectangle of eyeliner are coated with Diorshow Mascara.
COMPLEXION (shades of foundation & nude blush varied depending on model skin tone)
Diorskin Nude Foundation

Diorblush Vibrant Color Powder Blush in My Rose #943

Diorblush "Kingdom of Colors" Vibrant Color Powder Blush
in Peach Splendor #536 (limited edition part of Spring 2015 Color Collection, launching January 2015)
LIPS:
Rouge Dior Baume in Milly #640
NAILS:
Dior Vernis in Muguet #108
Availability: All products except where noted available now at Dior counters nationwide and Dior.com.