Originally published 12/1/2014 at 12:00p.m., updated 12/1/2014 at 12:00p.m.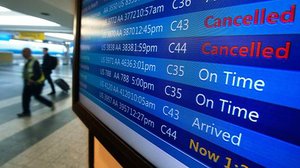 (CNN) -- Sunday is one of the busiest travel days of the year, as millions of people return home after the Thanksgiving holiday.
The overall picture was a far cry from Wednesday, when snow snarled traffic on the ground and in the skies for a big chunk of the country.
Sunday brought "warmer and more tranquil conditions" to parts of the country including the East Coast, CNN meteorologist Todd Borek said. Temperatures were expected to reach the mid-50s in the Northeast and the mid-60s and higher farther south.
Still, as of 12:30 p.m. ET, there were more than 1,000 flight delays and more than 80 cancellations within, into, or out of the United States, according to FlightAware.com.
While a lot of attention goes to the airports -- where the interconnected flight travel system can have a domino effect -- the vast majority of Thanksgiving travelers hit the road.
Ninety percent of travelers were expected to go by road, AAA said, helped by the lowest gas prices in five years.
In all, more than 46 million people were expected to travel 50 miles or more for Thanksgiving, marking the highest volume since 2007.
"The average distance traveled this Thanksgiving will be 549 miles roundtrip and Americans will spend an average of $573 during the holiday weekend," AAA predicted.
For more information go to http://www.cnn.com