Fashion Lifesavers
In your closet - timeless fashion classics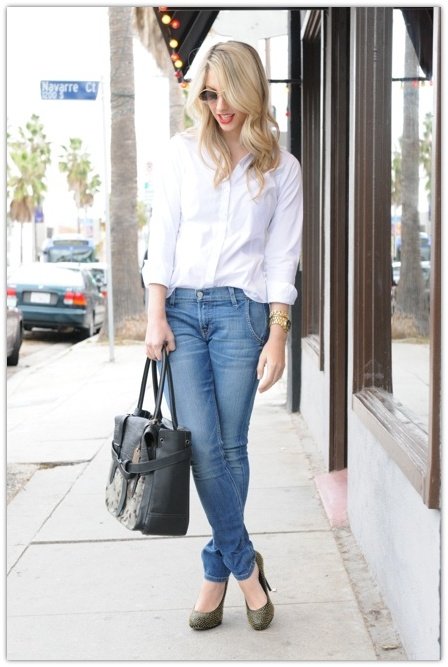 By Sharon Mosley
A new season is an exciting time for fashion lovers — time to peruse the latest trends on our favorite websites, check out the windows of our stores and browse the pages of those giant, heavy-weight September magazines. And while we may have our eyes on that funky new fringed maxi skirt, there's nothing that beats waking up to a closet well-stocked with a few dependable wardrobe essentials.
Here are the timeless classics that you can depend on year after year:
— The dark suit. It can be black or this season's midnight navy, but a well-tailored two-piece pantsuit or skirt suit is an investment well worth splurging on. Wear the two matching pieces together, or separate them for even more fashion mileage. There are endless ways to work these pieces into your wardrobe.
— The white shirt. This classic has been around for decades, it's true. But its tried-and-true crisp silhouette with button front, crisp collar and cuffs is a winner. Its menswear roots were softened into elegant attire for '50s movie stars and preppy looks of the '70s. And it still stands out as a refined basic that can be dressed up with black pants or dressed down knotted at the waist and worn with jeans. For even more of a style update, cinch in the waist of a tunic-length white shirt with a wide animal-print belt.
— The pencil skirt. Another wardrobe essential, the fitted skirt has stood the test of time ever since French designer Christian Dior introduced it in the '50s. This year, the sleek pencil skirt is styled in longer lengths with sexy slits, peplum tops and punchy patterns. It's a classic base for all the oversize jackets and coats in this fall's trendsetting lineup. Ditto for crewneck sweaters and, of course, those chic white blouses. Give a shapely pencil skirt a little bit of an edge by teaming it with a leather moto jacket.
— The essential pant. Everyone has a favorite pant silhouette.
Take a look in your closet and you'll probably see skinny pants, wide-leg pants and tailored trousers. Or you may favor the ease of leggings and track pants. But chances are you have a favorite "go-to" pant that suits most of your wardrobe needs. If you want to add a new style this fall, check out the fuller gaucho pants for a contemporary twist. High-waist jeans are another trendy update.
— The classic jean. This is another closet staple for most women, but again, there are lots of different styles of jeans now. Many of us have one or two favorites that we rotate in our wardrobes, but it's always fun to add a fresh pair to the mix, especially at the beginning of a new season. Darker, trouser styles work best for the office, while cuffed boyfriend or distressed looks are great for weekends. Flared jeans are making a comeback, too.
— The sheath dress. Whether it's an LBD (little black dress) or not, this simple cut has withstood the test of time. It's always a favorite at cocktail parties, and in bold colors and prints, it has made a dramatic entrance at the office. A luxe fabric makes it worthy of an evening standout. The sheath is also a perfect layering piece for cardigans, jackets and coats. Slip into a sheath dress in a deep-red "sangria" color for fall.
— The trench coat. You knew it was coming. The trench is another ultimate fashion classic that has stood the test of time. You can throw this one over just about anything in your wardrobe. Ever since its inception as a military favorite that was popularized by Hollywood after WWII, the belted (tie it; don't buckle it!) coat has been considered an essential of "cool" style whether you are a foreign spy or not. The trench this fall is making news in hothouse floral prints and shiny quilted leather. Its versatile all-weather appeal and iconic sophistication is still a reason the trench is always a fashion lifesaver.
For more information, visit creators.com