Rev. A. Louis Patterson, Jr. Dies While His Preaching Legacy Lives On
Legendary Senior Pastor of Mt. Corinth Missionary Baptist Church Passes Away at 80
"Time can not erase, nor ages destroy" the work and legacy of the Rev. Dr. A. Louis Patterson, Jr. He was more than the Senior Pastor of Mt. Corinth Missionary Baptist Church for over 40 years. He was a teacher, counselor, comforter, prayer partner, Christ warrior, missionary, visionary, leader, son, husband and father to more than just his biological children. There are not enough words in the English language to describe what he was to so many throughout the world. His touch could bring comfort to a newborn baby when being given back to the Lord to an international leader needing a spiritual guide. We now mourn the passing of one of the nation's most prophetic preachers, Rev. Dr. A. Louis Patterson, Jr.
Born in Granger, Texas a young Patterson as he has said, "made the conscious decision to accept Christ" at the age of nine at the St. Love All Baptist Church.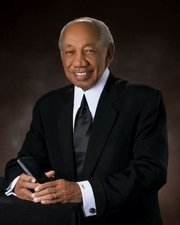 He knew at a very early age that he would be a preacher, practicing his technique since he was a preteen. In an interview with H. B. Charles, Jr. earlier this year, he said his first congregation was a congregation of corncobs.
Like many preachers before officially accepting the call to preach, they run from the ministry. Patterson ran for eleven years before he answered the call. Highly influenced by the late Rev. O. S. Davis and Rev. E.V. Hill, Patterson found his voice to teach the Word of God. Beginning his preaching journey at Mt. Zion Baptist Church in California, he would eventually be called to be the Senior Pastor at Mt. Corinth in Texas recommend by his mentor, Rev. Hill.
During his preaching career that spans four decades, numerous states, and international waters, Pastor Patterson has garnered numerous honors. Some included being recognized three times as a Living Legend by his peers, constant speaker at the National Baptist Congress of Christian Education of the National Baptist Convention, U.S.A., inducted into the Morehouse Hall of Fame, recognized by Ebony Magazine as one of America's Greatest Black Preachers and conducting revivals throughout Europe, Asia, Africa and the Caribbean. He has also authored three books – Prerequisites for a Good Journey, Joy for the Journey, and Wisdom In Strange Places.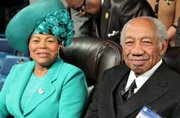 Always at his side was the love of his life, Melba Beverly Lorraine Simmons Patterson. The two first met in church in Sunday School Class at Mt. Zion. They were married for forty-eight years. Together they have three children – Albert Louis (deceased), Alan Lamar, and Alette Lorraine. Patterson also has a third son Anthony.
It was while holding the hand of his beloved wife that Pastor Patterson took his last breath on Wednesday, April 9, 2014 sitting in his favorite chair at his home. He was eighty years old.
Final arrangements for Pastor Patterson are on Thursday, April 17th. The viewing is from 8:30-11am and celebration of life service starts at 11am at Mt. Corinth Missionary Baptist Church, 4901 Providence.
Pastor Patterson has blessed so many beyond unspeakable measures. His presence will be missed but his voice and legacy live on for years to come through the power packing principles he taught from the Word of God.
On a personal note
As one who was under the tutelage of Pastor Patterson since birth my heart is truly sadden by his passing. He christened me as a baby when offering me back to God. He baptized me in the name of the Father, Son, and Holy Ghost. He helped me grow in the body of Christ. No matter the day or the hour I needed that extra comfort him he as well as his family were always there. I am so grateful for that.
I offer my prayers and deepest sympathy to the entire Patterson family and my Mt. Corinth family. We all can find comfort in knowing he had joy on his journey and is now receiving his just reward in heaven with the King. Pastor Patterson may you forever rest in peace and love.
Follow Jo-Carolyn Goode on Google +