Rouhani Urges 'Total Elimination' of Nukes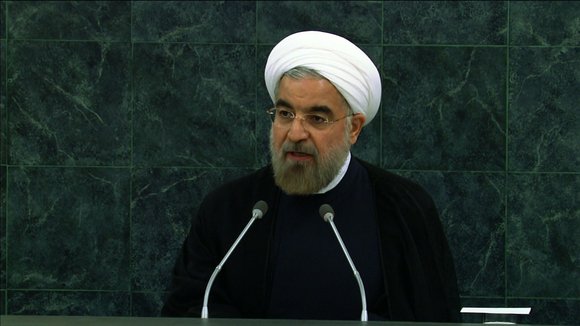 By Joe Sterling
CNN
Iranian President Hassan Rouhani made a strong call for an end to nuclear weapons, saying such disarmament "remains our highest priority."
"As long as nuclear weapons exist, the risk of their use, threat of use and proliferation persist," said Rouhani addressing the U.N. General Assembly on behalf of the Non-Aligned Movement on Thursday. "The only absolute guarantee is their total elimination."
World powers, such as the United States, have long said they believed that Iran is intent on developing nuclear weapons. Iran has said it wants to harness nuclear energy for peaceful purposes.
Rouhani, recently elected president, has made comments that have led many leaders to conclude that there is a chance to strike a nuclear accord between Iran and the five permanent members of the U.N. Security Council plus Germany.
Later Thursday, Secretary of State John Kerry will join his Iranian counterpart, Foreign Minister Mohammad Javad Zarif, at a meeting of the six countries. Discussions are expected to involve restarting talks on Iran's nuclear program.
Israel and Iran
Israel, the Jewish state, has long feared Iran developing a nuclear capability, aggravated by the bellicose rhetoric of former Iranian President Mahmoud Ahmadinejad. But Rouhani's diplomatic rhetoric is a change in tone.
He made reference to Israel in his remarks, urging the country to join the effort for a nuclear-free zone.
"Almost four decades of international efforts to establish a nuclear-weapon-free zone in the Middle East have regrettably failed. Urgent practical steps towards the establishment of such a zone are necessary," he said.
"Israel, the only non-party to the Non-Proliferation Treaty in this region, should join thereto without any further delay. Accordingly, all nuclear activities in the region should be subject to the IAEA comprehensive safeguards," he said, referring to the International Atomic Energy Agency.
"The international community has to re-double its efforts in support of the establishment of this zone. This would constitute a contribution to the objective of nuclear disarmament."