SeaWorld responds to questions about captive orcas, 'Blackfish' film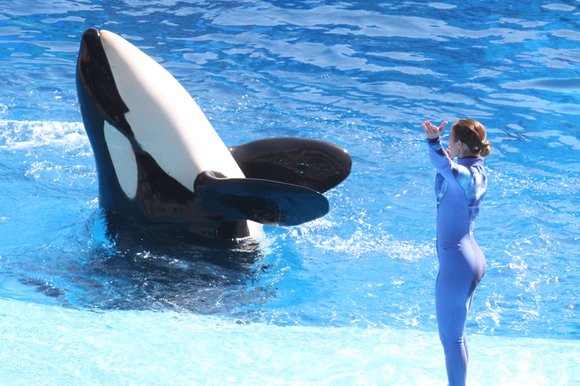 -- This week, CNN will present the premiere of "Blackfish," a documentary that traces the history of killer whales in captivity leading up to the 2010 killing of SeaWorld trainer Dawn Brancheau by Tilikum, an orca previously associated with the death of two other people.
SeaWorld has been critical of the film, which debuted at the Sundance Film Festival earlier this year, issuing this statement to CNN:
"Blackfish is billed as a documentary, but instead of a fair and balanced treatment of a complex subject, the film is inaccurate and misleading and, regrettably, exploits a tragedy that remains a source of deep pain for Dawn Brancheau's family, friends and colleagues. To promote its bias that killer whales should not be maintained in a zoological setting, the film paints a distorted picture that withholds from viewers key facts about SeaWorld -- among them, that SeaWorld is one of the world's most respected zoological institutions, that SeaWorld rescues, rehabilitates and returns to the wild hundreds of wild animals every year, and that SeaWorld commits millions of dollars annually to conservation and scientific research. Perhaps most important, the film fails to mention SeaWorld's commitment to the safety of its team members and guests and to the care and welfare of its animals, as demonstrated by the company's continual refinement and improvement to its killer whale facilities, equipment and procedures both before and after the death of Dawn Brancheau."
SeaWorld declined CNN's requests to be interviewed on camera. However, Vice President of Communications Fred Jacobs agreed to answer some questions about the controversy over the film and about keeping orcas in captivity.
Here are Jacobs' unedited responses to CNN's questions:
CNN: In your statement, SeaWorld notes that Blackfish "withholds from viewers key facts about SeaWorld," including that SeaWorld has rescued, rehabilitated, and returned to the wild hundreds of wild animals: Do any of those animals include orcas?
SeaWorld: Yes, though killer whales do not beach with the same frequency as other species and when they do it is typically a last ditch effort at survival. Killer whales, like all stranded marine mammals, are generally gravely ill, injured, malnourished, dehydrated, very old or very young, and do not survive long on shore. Nonetheless, we've assisted whales many times, including killer whales. The largest whale to ever be rescued, rehabilitated and returned to the wild -- J.J. the orphaned gray whale calf -- was part of our rescue program. (See the attached paper from a biologist at the Hubbs-SeaWorld Research Institute (PDF).) You can read about our role in rescuing killer whales from Barnes Lake in Alaska here and our role in rescuing a killer whale named Springer here. We also assisted our colleagues at Dolfinarium in Holland with veterinary care and husbandry for an orphaned and hearing-impaired juvenile killer whale they rescued. SeaWorld was part of the team to help Luna, as well as a young killer whale stranded near Puerto Vallarta in Mexico. We also are regularly called upon to do pathology on beached whales that do not survive.