New 1st of Its Kind Kids Natural Hair Salon Opens in Houston
Jo-Carolyn Goode | 10/17/2013, 12:43 p.m. | Updated on 10/17/2013, 12:43 p.m.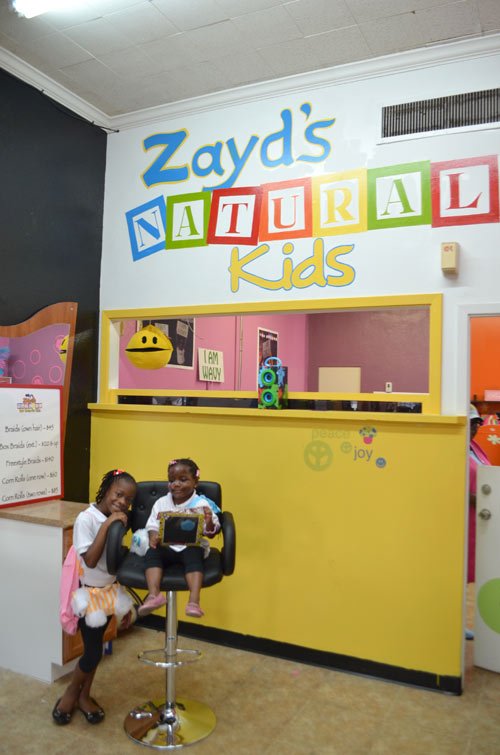 I know my mother had a time combing my hair. I wouldn't hold my head still. I was always crying from pain. It was not fun for either of us. She screamed with delight when I was old enough to go to the beauty shop. Relief for her but still a headache for me. I hated the beauty shop. I had to sit there all day long listening to adults' blah about gossip and watch boring TV shows. Plus I was still in pain. I wished there was a shop that catered to kids. Well now there is.
Sitting in the heart of Museum District is Zayd's Natural Kids, a full-service natural hair salon that caters to children, ages three (3) to thirteen (13). Zayd's Natural Kids' owner, Shawna Farooq , who is also the owner of Zayd's Naturally Natural Hair Studio, notice that with her adult hair salon that all of the attention was placed on adults leaving the kids very bored. "I wanted to have something that would be conducive towards kids," said Farooq. "They got bored. We had nothing to entertain them with. We didn't have pictures of children's styles from them to choose from. So I wanted to have a place where they could feel comfortable and feel like this is for them."
Thinking solely of what kids would want Farooq has created a whimsical salon for kids. Walking through the doors and I hit by color. Yellow, blue and green pain adorn the walls, with equally colorful salon chairs at all workstation. Across from that area is a play zone with an athletic theme featuring the Houston Texans, Rockets, and Astros. Next what caught my eye was a second play station, which I thought. I came to learn that it was the pamper party place. A group of little girls can have the ultimate day out doing their nails, makeup, playing dress up or whatever floats their boat. The area is all decked with pink and purple walls and is complete with hand chairs, boas, and others things to have a grand time. There is even a reading nook in the salon so children can grab their favorite book and catch up on some reading while getting their hair done.
Zayd's Natural Kids is a full service salon offering an arrange of servicing including Cornrow Braiding, Double Strand Twists, Coiled Twists, Locks, Bantu Knots, Pressing and many more natural hair styles for children. Prices are reasonable. Some examples include hair cuts for $19, flat iron styles for $50, braided Mohawk for $60, and rodded Mohawk $69.
"The natural hair movement is finally becoming more prominent and accepted in America, and Houston. We are truly excited to provide relief and education to Houston parents who need assistance with maintaining their children's natural hair," said Farooq.
Zayd's Natural Kids Hair Salon is located at 221 Almeda Road, Houston, Texas 77004 and is open Tuesday – Saturday from 10am-5:30pm. Contact them online at www.zaydsnaturalkids.com or by calling 7135261009.