Salmonella Outbreak Linked to Tainted Chicken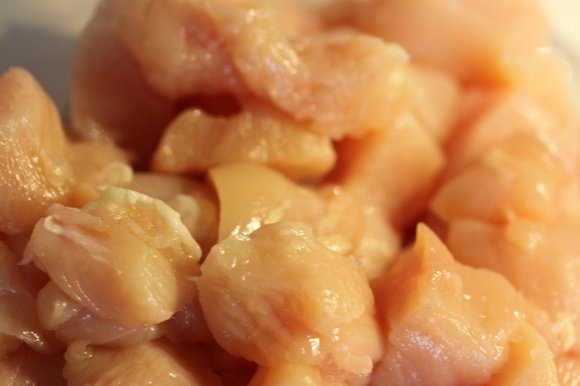 By Eatocracy Editors and CNN Health Editors
CNN
A Salmonella outbreak linked to a California poultry producer has sickened approximately 278 people in 18 states, health officials say. As of Tuesday morning, no recall had been issued.
Raw chicken products from Foster Farms plants have been identified as the likely source of this outbreak of Salmonella Heidelberg.
The Food Safety and Inspection Service (FSIS), an agency of the U.S. Department of Agriculture, has so far been unable to identify the specific product or production period, but raw products from the potentially affected facilities bear one of the following numbers on the packaging: P6137, P6137A, P7632. These product numbers were mainly distributed to retail outlets in California, Oregon and Washington state.
The Centers for Disease Control and Prevention is partnering with state health departments to monitor the outbreak while FSIS continues its investigation, but due to the government shutdown, current information may not be available on the agencies' websites.
"While the company, FSIS and CDC continue to investigate the issue, Foster Farms has instituted a number of additional food safety practices, processes and technology throughout company facilities that have already proven effective in controlling Salmonella in its Pacific Northwest operations earlier this year," Foster Farms said in a statement on its website.
The CDC first alerted FSIS to a growing number of Salmonella cases on July 1, USDA spokesman Aaron Lavallee told CNN. At the time, 18 people had been sickened in four states, and Foster Farms was a possible link between the patients. USDA investigators began "site sampling," or testing Foster Farms facilities on September 9, and concluded their analysis of the majority of the samples collected on October 7.
"The partial government shutdown did not affect the investigation or communication with the public," Lavallee said.
The Salmonella outbreak comes one week after CDC Director Tom Frieden tweeted: "CDC had to furlough 8,754 people. They protected you yesterday, can't tomorrow. Microbes/other treats didn't shut down. We are less safe."
That raises the question: With government agencies like the CDC on furlough due to the partial government shutdown, is our food supply safe?
The shutdown notice issued by the USDA indicates the the FSIS will continue to inspect birds and animals intended for use as food both before and after slaughter, supervise the further processing of meat and poultry products, ensure that meat, poultry and egg products are safe and also prevent the sale of adulterated meat or poultry products. Despite furloughing 1,218 employees, the USDA says no meat and poultry inspectors have been put on leave.
But future outbreak investigations could be affected by the government shutdown if it continues much longer, some experts say.
"The CDC is the central coordination point and often the leader of the investigation, and the state health departments all collaborate under the umbrella of CDC guidance," says Dr. William Schaffner, chairman of the department of preventive medicine at Vanderbilt University. "The CDC invariably is the conductor of the investigative orchestra."
CDC spokeswoman Barbara Reynolds said, "We had about 10 people in the division. Now we have almost the full complement of 30 who were working on PulseNet and epidemiological surveillance."