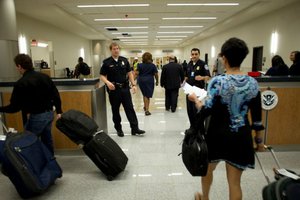 Travelers with medication, disabilities or medical conditions. People can travel with their medication, but make sure to tell the TSA officers at the start of the screening. And there are rules to follow. Travelers who need extra assistance because of disabilities or medical conditions can call the TSA Cares line at 855-787-2227 before your trip for guidance.
Don't wrap your presents (yet). While there's no absolute rule against wrapped gifts, TSA officers may need to unwrap your gifts to inspect them. Why not wait until you land to wrap them?
Don't carry a knife. Knives are still prohibited in carry-on luggage, but they can be placed in checked luggage. (Yes, there was a debate earlier in the year about knives, but the knives didn't win the right to fly in the passenger cabins.)
Don't carry a gun. Passengers carrying guns up to a TSA security checkpoint can be subject to arrest and prosecution, even if bringing your weapon was an accident. Check TSA and airline regulations before trying to transport firearms and ammunition.
Knitting needles are dandy. Knitting needles and other needlepoint items -- including scissors under 4 inches -- can be packed in your carry-on bags. But any cutter with a blade, including circular thread cutters, must be packed in your checked baggage.
Use those e-devices. The Federal Aviation Administration has eased up rules on the use of portable electronics devices aboard airlines flying within the United States, so you may be able to watch a downloaded movie or read an e-book below 10,000 feet. But check your airline's website first to make sure it's gotten approval from the FAA. Talking on cell phones is still not allowed in-flight and no connecting to the Internet unless the flight attendants say so.
Still have questions? Call the TSA. Really. Call the TSA Contact Center at 866-289-9673 about your upcoming travel, TSA rules and any feedback about your travel. It's open Monday -- Friday, 8 a.m. -- 11 p.m. ET. It's also open weekends and federal holidays, 9 a.m. -- 8 p.m. ET.
Are you traveling for the Thanksgiving or December holiday season? Please share in the comments below.