Carmen Ejogo She Sparkles!
Susie Stillwell | 11/7/2013, 4:11 p.m. | Updated on 11/7/2013, 4:11 p.m.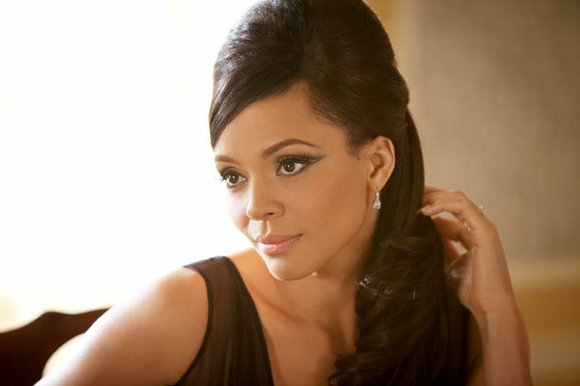 Carmen Ejogo was born in London on New Year's Day 1974 to Elizabeth Douglas and Charles Ejogo, a couple of Scottish and Nigerian extraction, respectively. She made her U.S. film debut opposite Eddie Murphy playing Veronica 'Ronnie' Tate in the 1997 comedy Metro.
Carmen then went on to star in films such as Kenneth Branagh's adaptation of Shakespeare's Love's Labour's Lost, What's the Worst that Could Happen? opposite Martin Lawrence, Neil Jordan's The Brave One opposite Terrence Howard and Jodie Foster, Gavin O'Connor's Pride and Glory opposite Ed Norton, and in Sam Mendes' 2009 indie hit Away We Go opposite Maya Rudolph.
Additionally, Ejogo garnered the attention of television critics and audiences alike for her portrayal of Sally Hemmings, the title character in the 2000 CBS mini-series Sally Hemmings: An American Scandal. Later, Ejogo starred as Coretta Scott King in HBO's critically acclaimed film Boycott opposite Jeffrey Wright and Terrence Howard. Her role earned her a 2001 NAACP Image Award nomination for Outstanding Actress in a TV film or mini-series. In 2005, Ejogo starred in HBO's Emmy nominated Lackawanna Blues. Her role as Aalen earned her a second Image Award nomination. Ejogo will next star as FBI agent Baca Sunjata in the highly-anticipated ABC television series Zero Hour opposite Anthony Edwards.
Carmen and her husband, actor Jeffrey Wright, live in Brooklyn which is where they are raising their two children. Here's she talks about her  role as Sister in Sparkle opposite Jordin Sparks and the late Whitney Houston.
Susie Stillwell/Juicy Culture: Hi Carmen, thanks so much for the time. I really appreciate it.
Carmen Ejogo: Thank you Susie for asking me.
SS/JC: OK. Jumping right in. What interested you in Sparkle?
Carmen Ejogo:  I know you saw the movie, Susie, It was such a great role. The highs and lows of the character's sister Sparkle,  were so dramatic and nuanced and layered that I'd have been be a fool to have turned this role down.  
SS/JC:  Yes I did see the movie and loved it being a singer myself. So, did you go back and watch Lonette McKee's performance in the original version of Sparkle in preparing to do this role?
CE: No. No, I don't know how you make a role your own if you do that. So, watching another actress play the same character in preparation for my own performance is the last thing I would ever do, particularly with Sister, since Lonette made it so iconic that it would be a crazy idea to watch her. I think our movie pays homage to the original, but it's definitely different in numerous ways. 
 SS/JC:  What message do you think people will take away from the movie?
CE: It's essentially about not letting your light be dimmed by anybody who doesn't appreciate the dream that you're trying to pursue. It's about knowing who you are, and following your path even if you're not given support by those around you. And it's also about family.
SS/JC:  I looooooved your performance in Metro.  Do you enjoy being a member of Mensa and what is your IQ?