Houston Beauty: "Styles by Him" with Corey Ford
Keandra "Ke Ke" Scott | 11/5/2013, 5:20 p.m. | Updated on 11/5/2013, 5:20 p.m.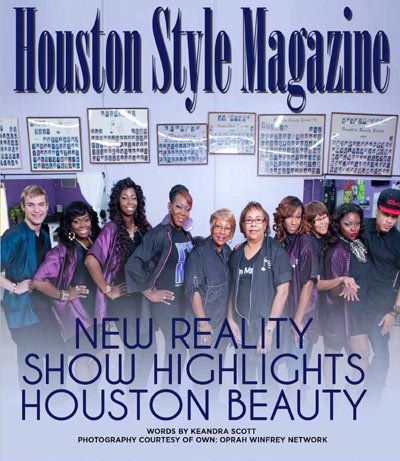 Houston Beauty on Oprah's OWN Network has just begun & the anticipation of watching future episode is upon us! Filled with tear-jerking drama & emotions at-large, Corey "Mr. Attitude" Ford was able to second the motion of what's-to-be a don't-want-to miss season. On Tuesday, Nov. 5, 2013, Corey Ford "served us much life" at Franklin Beauty School, one of the first private cosmetology schools to be licensed in the State of Texas in 1935 & has been family owned & operated since 1915. While I interviewed Corey he was busy putting the latest due on one of his biggest supporters who happens to be his sister, Amber.
Are you a native Houstonian? When did you start the path to accomplishing your dreams?
I went to Lee High School in Baytown, TX. Shortly there after, I enrolled & commuted to Franklin Beauty School & then I sat out for a little bit. While I was growing up, I hid my  enjoyment for doing hair from my step dad. I have close relatives that are beauticians & some who aspire to enroll soon to the Franklin Beauty School! Franklin is a big family to me that provided a platform to work with many people from different walks of life. Right before the casting & filming took place for Houston Beauty, I enrolled as a student. I didn't get casted, but the producers told me to fall right in.
What has life been like after filming for Houston Beauty?
I'm a Franklin graduate now! During the filming process, the Producers mentioned that my life would change in many ways, & it has. I've been receiving numerous interview requests, re-connecting with old classmates & growing my business, Styles by Him, as a result.
Why do they call you "Mr. Attitude"?
If you keep watching the show, you will know that I mean business & keep it real. It's levels, It's a lot of levels to this!
What is it like being in a female dominated industry?
My thing is, do you do hair? I'm here to do hair! I feel my talent speaks for itself, I have growing hands & most women want that. A lot of women like to be styled by a man, with a man's point of view. I know what the guys want & that's an advantage!  
What are your future goals?
I would like to be a celebrity hairstylist, open my own hair salon & be a licensed cosmetology Instructor.
The holiday season is here, what are some beauty tips to sass up that "holiday look"?
Don't wear your struggle on your face. Bring those bangs forward, push those curls & waves out! One of the best things any woman can have handy is a Wand, you can do so many creative things with it. Red is a hot color this season & you can mix-it to jazz-it with a copper color. To all my natural sistas, be you, get unique & fun from head to toe. You can also accent your cheeks with a bronzer & contour your nose, it enhances the beauty that is already present!
Catch Houston Beauty on OWN SATURDAYS at 9/10c (Check your local listings)
Join the buzz with # Hashtags: #HoustonBeauty #Ichop #OWNTV
Are you on Twitter & IG (Instagram)? Follow Corey Ford @Stylesbyhim
Interested in joining the Beauty Industry & being apart of history with the Franklin Beauty School?  Visit: www.franklinbeautyschool.com
For more stories by Keandra "Ke'Ke" Scott follow her @TheRealKScott.