No Stopping on the Dance Floor
Yolanda Pope | 5/21/2013, 11:36 p.m. | Updated on 5/21/2013, 11:36 p.m.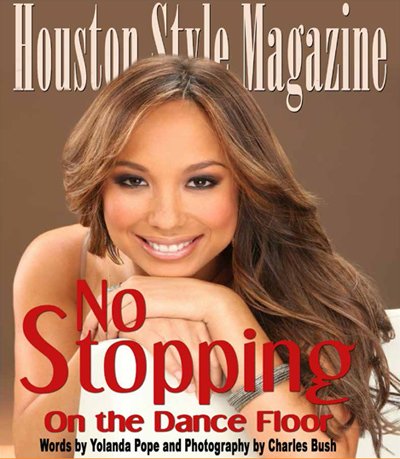 ABC's Dancing with the Stars' 16th season is winding down fast, the show celebrated its 300th episode on Tuesday May 14, 2013, with an opening dance number from the seasoned veterans of the ballroom. Many viewers including myself watched in awe as the professional dancers moved to the music with precision, flare, and speed. Included in this group is Cheryl Burke who is a two-time champion of the "DWTS" ballroom. Now can you imagine having your phone ring, and on the other end a person says "This is Cheryl Burke"? Well, with the help of one of Cheryl's biggest fans Tina L., who "steered" me in the right direction of Ms. Burke's team, Houston Style Magazine was granted a phone interview.

For those who may not follow "DWTS" or Ballroom Dancing, Cheryl Burke is a California native who has been dancing since the age of four. Her first dance training was in ballet, but she decided to hang up her ballet shoes at the age of 10 when she saw other children of her same age competing in the ballroom. She is trained in standard ballroom and Latin dances. At the age of 13 she began competing and inevitably became a champion. In 2005, Burke became the World Cup Professional Rising Star Latin Champion, San Francisco Latin Champion, and Ohio Star Ball Rising Star Latin Champion. After graduating high school and attending college for a year, Cheryl decided to put her studies aside to continue dancing professionally.
She debuted on ABC's Dancing with the Stars in the second season, and won the mirror ball trophy with partner 98 Degrees member Drew Lachey. In season three, Cheryl became a repeat champion with former Dallas Cowboy Emmitt Smith. I have to admit this was my favorite season; Cheryl and Emmitt's first dance was the Cha-cha-cha and it still gives me chills every time I watch the video. The pair wowed the audience and judges with a series of precise cha-chas, hip movements, and turns. The couple received a standing ovation from the audience, Judge Bruno said "I wanted to join in", Carrie Ann Inaba hugged Emmitt and said "You can dance!";subsequently, they received all 8's, from the judges.
So what else does Cheryl Burke do? She is an author, her book Dancing Lessons: How I Found Passion and Potential on the Dance Floor and in Life was released January 2012. Moreover, Cheryl is a spokesperson for Depend® Silhouette® in their "Try it on Challenge" where she danced in the product to support an organization called Dress for Success. She is also the spokesperson for Impress Nails and Sargento Cheese. Cheryl indicated that she is very focused on building her brand and is not straying off her chosen career path at this moment.
Additionally, Cheryl owns a dance studio in Mountain View California named "Cheryl Burke Dance, Mountain View", their website is: http://www.cherylburkedance.com/MountainView . Her mother runs the studio full-time, but Cheryl does teach there when she is not travelling or on the set of "DWTS". In her time off, she travels with family and her best friend Kelly Monaco. To stay in shape when she is not dancing, Cheryl hikes, participates in Bikram yoga, and she has recently started a "gluten –free" eating regime, which has given her "a lot more energy" she said. Furthermore, Cheryl is very appreciative of her fans; during this season when she was paired with D.L. Hughley, she responded to so many tweets from her followers, including a couple of mine.

Finally, I would like to thank Cheryl Burke's team for their efforts in coordinating this interview, and Cheryl for taking time out of her very busy schedule to grace the cover of Houston Style Magazine.
Thanks for reading, and don't forget to follow me back to the Culinary World on twitter: @YPEatingwStyle and my blog: www.eatingwithstyle.wordpress.com.