Color Blocking 101
Lindsay Buchanan | 5/2/2013, 11:45 a.m. | Updated on 5/2/2013, 11:45 a.m.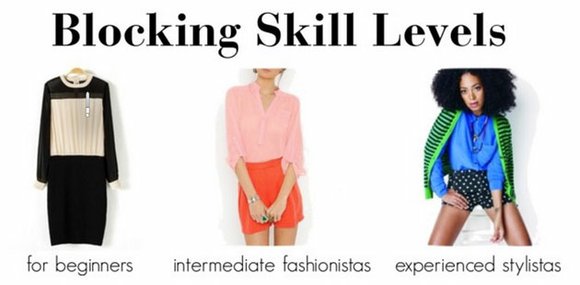 In a season full of floral prints, polka dots, and stripes, making a bold color statement can great way to stay ahead of hokey spring trends. Color blocking is one of the most fashionable, and trickiest, style techniques. There a few preliminary steps you need to take before you start on your way to becoming a color mix master. First, buy bold pieces in classic shapes to stock your closet with an exceptionally colorful spring arsenal. Focus on cropped pants, blouses, and light jackets. Next, take inventory of your accessories. Make sure you have enough metals and neutral jewelry. Buy some nude and black statement heels if you don't have any. You're ready to start color blocking!
Mixing colors adeptly can be difficult to master. Color blocking is a delicate mix of proportions, shades, and accessorizing. Pick bright, contrasting colors. The brighter each hue is, the better. You don't want to look like you're just mismatched; this is a conscious choice you're making, and it should be obvious. When it comes to accessorizing, keep pieces to a minimum. You don't want your outfit's overall effect to be overwhelming; too many accessories can make even perfectly paired pieces look like a jumbled mess. Wear one or two statement pieces with each colorful outfit. Let your clothes do the talking.
Novices should stick to classic cuts in bold hues. If you're not ready to mix and match separates, pick singular pieces designed with a color-blocked element in mind. Ann Taylor and LOFT churn out perfect color block dresses, skirts, and tops almost every spring season. Top off your look with statement earrings.
Intermediate stylistas should pair like colors. Stay in the same color family with your outfits. Reds, pinks and oranges go well together. Yellows, blues, and greens are a daring—but stylish—match. Pair your bright ensemble with a muted statement shoe.
More seasoned fashion fans should play with pairing pieces with bold shapes in contrasting hues. Figure out what styles flatter your shape, and play on proportions with structured colorful separates. If you're particularly skilled, you can even through in strong patterns like singer/songwriter Solange Knowles. Beware: you need to know your body pretty well in order to pull this look off. Also, tailoring is key.
Color blocking is a fun seasonal trend and the gift that keeps on giving when you run out of outfit ideas. Just grab two bold colored pieces and make a major statement. Impress your friends, coworkers and family with a stylish, bright, and bold look. Happy dressing!