Harlem shake reaches new heights; FAA not amused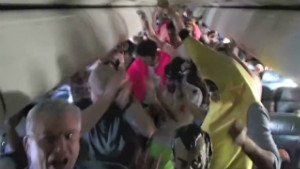 It's the dance sensation that's sweeping above the nation -- at 30,000 feet.
The Harlem shake has gone aloft, breaking out on commercial airline flights, and appearing in dozens of YouTube videos.
Some of the videos were taped aboard planes on the ground. But the Federal Aviation Administration says it is looking into one instance of high-altitude dancing.
And airline pilots, flight attendants and others say the fad presents serious safety and security problems.
"It's ridiculous," said Jim Tilmon, a retired 29-year airline pilot. "A commercial airplane in flight ... is not a dance hall, it's not an entertainment stage, it's not any of those things."
'Harlem Shake' dances to the bank LSU students flash mob New viral dance craze: 'Harlem Shake' Would Wolf Blitzer do 'Harlem Shake'?
"It's cute, novel, all that sort of stuff," he said, adding, "Wrong place, wrong time."
Experts say they are not trying to be party poopers.
"I hate to be a bureaucratic kill-joy," agreed Steve Wallace, former director of the FAA's Office of Accident Investigation. "I think there is a safety issue here. Turbulence injuries are the most common type of injuries, and they are virtually eliminated when people are in their seat belts."
Dancing is a bad idea even on the ground, said Veda Shook, president of the Association of Flight Attendants. She fretted about being labeled a "buzz kill." But dancing impedes other passengers and makes it impossible for flight attendants to communicate with passengers, she said.
The FAA is looking into a 31-second video taken on a February 15 Frontier Airliners flight.
On that flight, 18 Colorado College students, on their way to an ultimate Frisbee tournament in San Diego, staged a Harlem shake as the plane soared over the Rocky Mountains.
What the dance has to do with Harlem
The students said they had the approval of the flight crew, who let them use the plane's public address system to tell other passengers about their intentions.
"We wanted to make sure that we followed every regulation and that nothing went wrong, and that it was OK with (the airplane crew)," said team member Matt Zelin. "We just figured being on a plane, you know, you need to make sure everything is safe, and we just talked to flight attendants and they were excited."
After the plane landed, they posted the video online, and it went viral.
"And so it went from kind of this, kind of joking around idea among the team to something that was reality, and then it was on YouTube and there were hundreds of thousands of views and now we're talking to you guys," Zelin said.
The seat belt sign was off during the videotaping, which took less than a minute, team members said.
"The video is a hand-held camera, so it's shaking and looking a lot worse than it is," said teammate Gavin Nachbar. "So we never felt unsafe the whole time, and we hope the FAA sees it the same way, and we assume that they will."