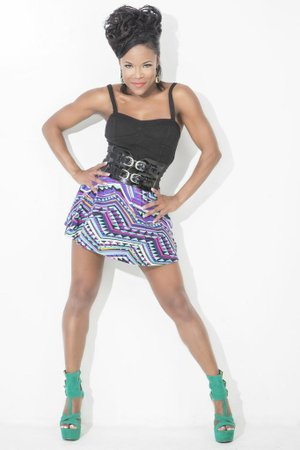 Ever since she was a little girl, DeQuina Moore heard the call of the stage. First hearing the call when she was 4 years old at a Patti LaBelle concert. At one point during the show her parents couldn't find her. All they had to do was look up and there little DeQuina was side-by-side with Patti LaBelle on stage glowing in the spotlight. And she has been glowing in that spotlight ever since. Growing up in Houston and now living out her dreams on stages across the country, Moore returns home starring in Flashdance – The Musical.
Taking audiences back to the day when leg warmers were the fashion trend, computers were just being introduced, and people used cassette and VHS tapes, Flashdance – The Musical celebrates the best of 1980's era. Based off the 1983 film, that ironically was originally intended to be a musical, Flashdance – The Musical tells the inspirational story of Alex Owens. Alex has been dreams of being a professional dancer but life's stumbling blocks almost impeded her ambitions. With the help of true friends and sheer determination, Alex learns a lot of life lessons that fuel the pathway to her dreams. One of Alex's best friends is Kiki, played by Moore. Like Alex, Kiki loves to dance but does not have all the natural talent that Alex has. Dealing with her own set of issues, Kiki knows the hard knock life and wants something better for her friend. "This character Kiki has lived a hard life," said Moore of her character, who is also a co-worker of Alex's at the bar where the two flashdance.
Flashdance – The Musical captures the great soundtrack of the original film while adding its own flavor to the musical version. Moore's passion for the stage is showcased as she has to act, dance and sing. "(Broadway) is the hardest because I have to do all the above. I have to be a triple threat and sincerely use all of my skills in one run," said Moore. She sizzles from start to finish in this production and gives an electrifying performance. "I know you are going to love the show. Anybody out there that has been through any type of rejection, had to overcome the word no, which is a lot of us; Anyone out there that is the underdog, has not been believed in, has had a hard time in being validated for their dream and what they hope for – this is the show for you," said Moore. "You should definitely come see it and be inspired."
Moore's has had a rewarding career since her days at the High School for the Visual and Performing Arts and her resume continues to grow. Working in television, film, radio, print media, and Broadway, Moore said she has been in every area that she has desired to be except one, the music industry. "Acting and dancing have always coming naturally for me and singing is more of challenge," she said. One would never know it the way she belts out vocals in Flashdance – The Musical. Her voice, simply put, is amazing. Expect her to debut her own music in a solo album in the future.
Theatre Under the Stars' presentation of Flashdance – The Musical plays at the Hobby Center from now until June 16, 2013. Tickets start at $24 and are available online at TUTS.com, at the theatre box office, or calling (713) 558-TUTS. For more information on DeQuina Moore, visit www.dequinamoore.com.