Young Israeli Clarinetist Wins $25,000 Grand Prize In Houston Symphony 2013 Ima Hogg Competition
Style Magazine Newswire | 6/3/2013, 5:24 p.m. | Updated on 6/3/2013, 5:24 p.m.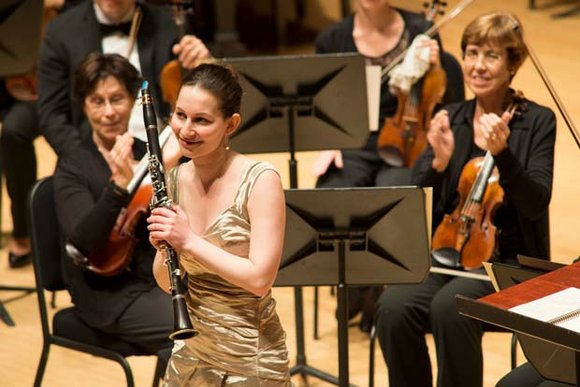 Performing Mozart's Clarinet Concerto in A major, 28-year old Israeli clarinetist Moran Katz won the 38th annual Houston Symphony League's Ima Hogg Competition on Saturday, June 1 at Rice University's Stude Concert Hall. Katz's first place win earned her a Gold Medal, the solo spotlight at Jones Hall with the Houston Symphony at the Houston Chronicle Concert on July 13 and the Grace Woodson Memorial Award of $25,000. The cash prize was increased from $5,000 to $25,000 in this year's competition, thanks to a generous gift of Symphony patrons John and Tracy Dennis. In addition to the top prize, Katz also won the $1,000 Herman Shoss Audience Choice Award and the $1,000 Robert and Nancy Peiser Award for Artistic Encouragement, which was selected by members of the Houston Symphony.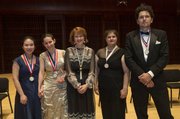 The Silver Medal went to pianist Vladimir Khomyakov for his performance of Prokofiev's Piano Concerto No. 3. He received the $10,000 Houston Symphony League Award and the offer to perform at the Houston Symphony concert on June 29, 2013 at Miller Outdoor Theatre. Pianist Min Jung Kim won the Bronze Medal with the $5,000 Selma Neumann Memorial Award and violinist Elizabeth Fayette won Fourth Place with the $1,000 The Jean Whitbread Kucera Award.
The 2013 competition began with 135 applicants from 16 different countries. Through a rigorous application and review process, the field was narrowed to 10 semi-finalists who competed on Thursday, May 30 at Rice University's Stude Concert Hall and were then narrowed down to four finalists. The four finalists then competed for a prize pool which increased from $9,300 to $42,000 in this year's competition.
The three judges represented all areas of the music business. They included James Feddeck, assistant conductor of the Cleveland Orchestra; Monica Felkel, director of artist management at Young Concert Artists, a non-profit organization which discovers and develops the careers of extraordinary musicians; and Charles Ward, retired classical music critic of the Houston Chronicle.
About the Houston Symphony Ima Hogg Competition
Named and purposed after former founder and President of the Houston Symphony, Miss Ima Hogg, this competition identifies and rewards excellence in young musicians between the ages of 13 to 30, who are pursuing a career in music.  The goal is consistent with the vision of Miss Ima Hogg, whose passions included fostering young talent and supporting the Houston Symphony. It's one of the few instrumental competitions that include all standard orchestral instruments.
The Ima Hogg Competition is a definitive breeding ground for fine musicians. Past winners have won numerous national and international competitions, received principal posts with some of the world's major orchestras and even occupied seats within the Houston Symphony – Concertmaster Frank Huang and principal keyboardist Scott Holshouser are two such players.
About the Houston Symphony Leagues
The Houston Symphony League and the Houston Symphony League Bay Area are dedicated to supporting the Houston Symphony through volunteer efforts and fundraising.  Symphony League members are involved with the Symphony's education programs through student music competitions and activities at Family Concerts, Student Concerts, Sounds Like Fun! concerts and Theater District Open House. Members from the Bay Area League promote music appreciation to elementary students in Clear Creek ISD through enrichment programs in the schools.  Both Leagues contribute to the successful operation of the Houston Symphony League's Concerto Competition by providing volunteers for in-hall support and hospitality.
About the Houston Symphony
During the 2013-14 Season, the Houston Symphony will be in its 100th year as one of America's leading orchestras with a full complement of concert, community, education, touring and recording activities. The Houston Symphony is one of the oldest performing arts organizations in Texas whose inaugural performance was held at The Majestic Theater in downtown Houston on June 21, 1913.  Today, with an annual operating budget of $28.7 million, the full-time ensemble of 87 professional musicians is the largest performing arts organization in Houston, presenting more than 280 concerts for 280,000 people, including 84,000 children, annually. For tickets and more information, please visit www.houstonsymphony.org or call 713-224-7575.