Can Bobbi Kris Legality Cut Cissy Houston Off Financially?
Style Magazine Newswire | 2/19/2013, 4:16 p.m. | Updated on 2/19/2013, 4:16 p.m.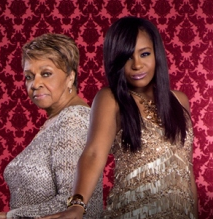 Insiders claim Whitney Houston's daughter Bobbi Kristina is so upset over her grandmother Cissy Houston's memoir 'Remembering Whitney' that she's vowing to cut Cissy off financially...
From "The Globe"...
"[Bobbi Kristina] believes Cissy cashed in on her beloved mom's death by writing the book. She says it stirs up rumors Whitney had a lesbian relationship with her former personal assistant, Robyn Crawford. And she deeply resents the way Cissy dishes dirt on her father, Bobby Brown, whom her grandmother blames for Whitney's drug addiction problems. Furious Krissi reportedly hung up when Cissy called to patch things up. When Cissy phoned to say she never intended to hurt Bobbi Kristina or tarnish Whitney's image, Krissi told her she never wanted to speak to her again -- then slammed the phone down," says the source. The angry youngster has also vowed to cut her Gospel-legend granny out of any part of Whitney's $20 million estate, says the source. Bobbi Kristina stands to inherit her mom's fortune in 2014 on her 21st birthday. [Bobbi Kristina] believes Cissy and the rest of the family "want to control her life and her fortune," says the second source. "She's vowed never to let that happen -- and won't give them a dime of her mother's money. She says the book Cissy wrote was the last straw -- just another attempt to cash in on her mom's hard work and talent -- and now her death!"