'Big' still has heart and soul at 25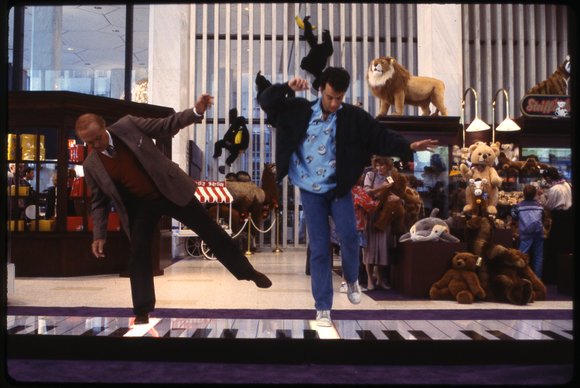 By Katie McLaughlin
CNN
The movie "Big" is celebrating its 25th anniversary, but the 1988 blockbuster almost didn't become the movie beloved by audiences today.
For starters, Tom Hanks originally turned down the lead, writers were seriously considering the title "When I Grow Up," and producers had trouble attaching a director to the picture.
"Tom Hanks was my first choice but he said 'no,' " director Penny Marshall told CNN, "and so did everyone else because there were other movies with the same premise. So I decided to go with someone who's a behavioral actor -- Bob DeNiro."
The tale of a boy whose diminutive stature prevents him from enjoying what he perceives to be the spoils of maturity makes a wish to be "big" at a carnival, only to wake up the next day as a 30-year-old man.
It's hard to imagine Robert DeNiro in the man-child role of Josh Baskin, but DeNiro was, in fact, attached to the role prior to backing out in negotiations.
DeNiro's interest in the film validated the project for Marshall. It was only her second directorial effort, and she soon found A-listers vying for the part of Josh.
Marshall knew Hanks from their days as sitcom stars on the Paramount lot. The former "Laverne and Shirley" actress thought the former "Bosom Buddies" star's "sweet, innocent face" would be a good fit.
But there was big trouble for Marshall, whose career as a director was at stake. Not only were three other body-switching movies currently in production ("Vice Versa," "Like Father, Like Son," and "18 Again"), but "Big" was the last one out of the gate that year because the crew had to wait for Hanks to become available.
Despite those odds, "Big" garnered Hanks his first Best Actor Oscar nomination and the movie earned an Academy Award nomination for Best Original Screenplay. It was one of 1988's top-grossing hits, and the first movie directed by a woman to break the $100 million box office mark.
Actor David Moscow, who played young Josh, told CNN that he originally auditioned for the role of Josh's best friend, Billy. It was the child actor's second audition ever. Months later, when Hanks came aboard, Moscow got a callback.
Moscow's hair was dyed slightly darker and he wore green contacts in order to better resemble Hanks.
"In the first week of shooting I lost a tooth," said Moscow. "I was very late in losing my teeth, and I remember production lost their minds. They built what they call a 'flipper' -- a band attached to the tooth that I had to wear in my mouth during scenes; but I could pop it in and out of my mouth if I wanted to."
Marshall recalled demanding that Moscow, a fellow Bronx, New York native, "stop flipping" multiple times on-set.
Moscow and Hanks, of course, could not be in any of the same scenes, but Hanks' nice guy reputation was already filmdom lore.